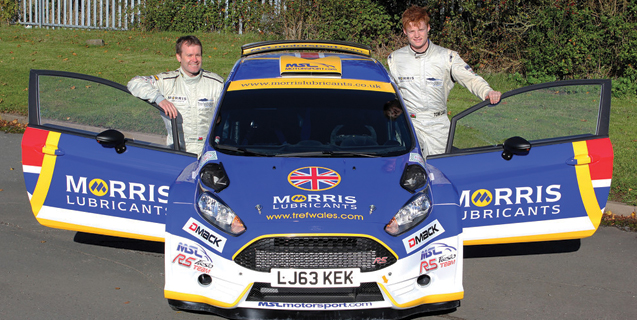 Welsh rally driver Tom Cave's dream of competing on this year's Wales Rally Great Britain in a Ford Fiesta R5 took one step closer today, when he visited the MSL Motorsport workshop for a seat fitting on 'his' R5. He and co-driver Ieuan Thomas tailored the car to fit them, practiced wheel changes and began learning the car with MSL's Matt Long and Sarah Ceen.
Having only seen the Fiesta R5 as an artist's impression with its Morris Lubricants livery in place, Tom and Ieuan were thrilled to see the car in the flesh, sporting the Shrewsbury-based lubricant specialist's familiar navy and yellow colour scheme. For this year's Wales Rally GB, the finale of the 2013 FIA World Rally Championship, it is complimented by a large Union Jack, to celebrate the company's heritage.
Also proudly displayed on the car are Tom's other supporters for the event, Cambrian Training Company and the Trefeddian Hotel.
However, as important as seeing the car in the flesh was, more crucial was to make sure it could accommodate Tom's 6'3″ frame comfortably. This meant a series of adjustments to the driver's seat, pedal assembly, safety harnesses and steering wheel but eventually, Matt found the ideal position for Tom to work from. He also tailored Ieuan's position, to allow him to operate comfortably over what will invariably be a rough ride.
Once the positions were set, Tom and Ieuan donned their overalls and helmets and strapped themselves into the car, ready to practice changing a wheel and tyre. A deflation can happen at any time and for a variety of reasons, so this is a skill that they hope not to need but require practice in case they do.
Both Tom and Ieuan spent time with Matt and Sarah walking round the car, studying the design and systems to learn how to get the best from it on the event. This included a briefing on controls and systems such as launch techniques and operation of the turbo anti-lag systems, used to optimise engine response.
Commenting, Tom said; "It was a very useful and productive day today. Of course, it was fantastic to see the car in the flesh; it looked better than the visual and I am sure that our partners – Morris Lubricants, the Trefeddian Hotel and Cambrian Training – will be as pleased as we are with the result.
"The wheel changing practice went well. Of course, I hope we won't have to do it but we managed to cut our time by 30% with practice, so every little helps. The technical briefing was also essential – Matt and Sarah ran us through the various systems as well as how the team will work on the event and it's good to know that there is a professional organisation behind us.
"I can't wait to drive the car properly now. We drove it up the road to check our seat positions and for visibility from the car and that gave me a real hunger for the rally next week. We are taking part in the Priority 3 pre-event test on Monday [11 November] so we will be able to start with a base set-up and refine that to start the rally in the best possible shape."