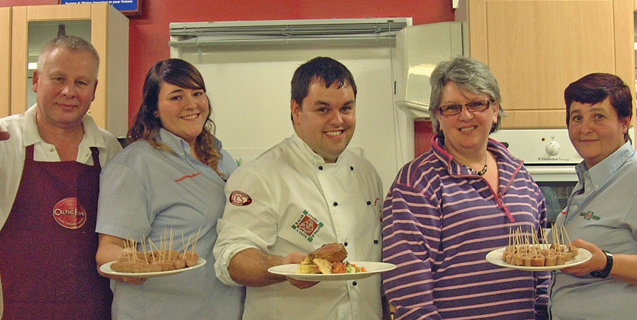 An open evening with butchery and cookery demonstrations atWelshpool-based Welsh Beef and Lamb PGI cutting plant, WMO, has been hailed a great success.
Thirty-five existing and new customers attended the event held at the company's Welsh Centre of Excellence for Butchery Skills at Unit 13, Severn Farm Enterprise Park.
Butcher Ramos Venys demonstrated how to produce good value cuts of meat from a lamb carcass, Carl Davies gave a sausage making demonstration and the audience was able to sample tasty meals produced by chef Steve Griffiths from some of the meat cuts.
Guest speaker Derwena Davies, manager of Wynnstay Spar, Llansantffraid, spoke about the company's policy of buying locally sourced, quality meat products from WMO and distributor Castell Howell.
She explained that selling Welsh meat products at the Wynnstay Spar store completed the circle, as many of the cattle and sheep would have been fed Wynnstay products.
Arwyn Watkins, WMO's managing director, outlined the history of the company, highlighting its guarantee of full traceability for all meat products sold. He also spoke about current trends in the Welsh meat industry, including demand by chefs for certain products.
Visitors were shown the new trade counter at the centre, which opened this summer and told about special offers and hampers in the run up to Christmas.
Employing six skilled staff, WMO supplies retail outlets and award winning restaurants and hotels across Mid Wales as well as individual customers who order meat products online at www.welshmeatonline.co.uk.
WMO has seen sales of beef burgers and mince treble since the UK's horsemeat scandal and orders for its range of Celtic Pride premium Welsh Beef and pork, Welsh Lamb and chicken products have surged ahead this year.
Megan Evans, sales and customer service assistant who organised the event, said: "Everyone really enjoy the evening, the feedback was very positive and we managed to secure new business, which was very pleasing. We plan to organise another event early in the new year."
Megan is on a year's placement with WMO as part of her course at Harper Adams University, Newport, where she is studying agri food marketing with business.
For more information please contact Megan Evans, WMO, on Tel: 01938 556 890 or Duncan Foulkes, public relations consultant, on 01686 650818.