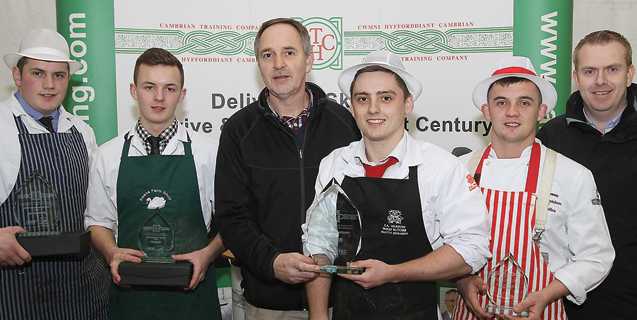 North Wales butcher Matthew Edwards proved himself a cut above the rest as he won a keenly contested Welsh Young Butcher Competition at the Royal Welsh Winter Fair on Tuesday.
Edwards, 22, who works for S. A. Vaughan Family Butchers, Penyfford, near Chester, went one better than last year, when he was runner up, to take the coveted title, a trophy and £200 prizemoney after judges rated the standard of the competition as "world class".
He beat defending champion Tomi Jones, 23, from Jones' Butchers, Llangollen, three times champion Tomos Hopkin, 20, from Gwyrhyd Mountain Meat, Rhiwfawr, near Swansea, who was previously unbeaten in the competition and 18-year-old Peter Rushforth from Swans Farm Shop, Treuddyn, Mold.
Hopkin was runner up with Jones and Rushforth joint third, with just six points separating the fourth young butchers.
The competition, which was televised live on S4C, was organised by award-winning training provider Cambrian Training Company, based in Welshpool and co-sponsored by Castell Howell and PearsonEdexcel.
Cambrian Training Company's managing director Arwyn Wartkins, who presented the prizes, said the standard of butchery displayed was the highest ever in the competition.
"The standard in terms of butchery skills, innovation and meat display was world class," he added. "I now hope these young butchers use these skills to raise the standards in their businesses.
"The competition is designed to promote butchery as a rewarding career and to provide a platform for the top young butchers in Wales to showcase and develop their skills to world class standard and I think they achieved that."
He made a special mention of Rushforth, who he said held his own against the more experienced butchers despite making his debut in the competition.
"To win against butchers that were previous winners of the competition was a pretty good achievement," said new champion Edwards, who praised the support he had received from his boss, Steve Vaughan. "I had practiced a lot for the competition and was chuffed with the way it went.
"It has been a really good year for me and I'll be back next year to see if I can defend my title."
It was the second time this year that Edwards had edged ahead of Jones, his former employer, in a major competition, after he clinched overall runners up spot behind an English butcher in The National Federation of Meat and Food Traders' Premier Young Butcher competition atthe NEC, Birmingham.
He is now looking forward to representing Britain in a European competition in Switzerland next September.
Despite losing his title, it has been a memorable year for Jones, who was named VQ Learner of the Year in June and was recently made an ambassador for the 'Future Skills…food for thought' campaign.
The finalists were challenged to butcher a brisket of Welsh Beef, a shoulder of Welsh Lamb, half a saddle of Welsh Pork and a whole chicken into cuts of their choice that add value and saleability. The judges were Steve Williams and Colin Harris from Castell Howell and Steve Morgans, from Morgans Butchers, Brecon.
For more information please contact Katy Godsell, Cambrian Training Company's Marketing Manager, on Tel: 01938 555893 email:katy@cambriantraining.com or Duncan Foulkes, public relations consultant, on 01686 650818