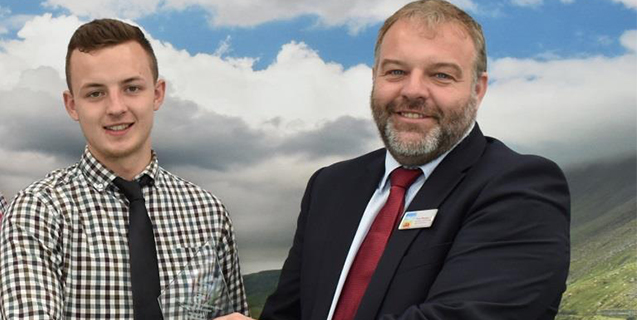 Peter Rushforth's career decision to opt for an apprenticeship instead of continuing his academic studies in university is paying rich dividends for the 21-year-old butchery star.
The multi-award winning butcher from Leeswood, North Wales has just returned from the United States after securing a scholarship from Meat Promotion Wales/Hybu Cig Cymru to study the development and utilisation of beef forequarter and related products.
Just a day after returning to the UK, he was adding another award to his bulging trophy cabinet, after being named Higher Apprentice of the Year by his training provider, Cambrian Training Company.
The award capped a memorable 12 months for Peter who won a WorldSkills gold medal, the Meat Trades Journal Young Butcher of the Year title, represented the UK in a European Young Butchers Competition and was runner up in the Premier Young Butchers contest during 2016.
His road to success is down to hard work, dedication and support from his employers, Clive and Gail Swan at Swans Farm Shop, Treuddyn, Mold and Cambrian Training Company.
The journey began when he was 15 and started work at the farm shop on a Saturday to earn pocket money. Leaving school at 18 with three 'A' levels, he had the chance to go to university to study psychology but instead chose to earn while he learned as an apprentice butcher.
It was as much a learning journey for the Swans as for Peter, as he was their first apprentice. He progressed from a Foundation Apprenticeship and Apprenticeship in Meat and Poultry Industry Skills to a Higher Apprenticeship in Food Manufacturing Excellence, winning competitions along the way, including the Young Welsh Butcher.
He is now just a month away from completing the Higher Apprenticeship, which is the academic equivalent of a degree and next plans to put into practice which he has learned during scholarship visit to the US.
He is particularly keen to develop new cuts from the beef forequarter, which traditionally is used for pies in the UK. In the US, the forequarter produces five tender cuts, including flat iron steak.
"These beef cuts are as tender as sirloin and rump steaks because of the way the meat is cut," explained Peter. "Because the forequarter is lower in value, it brings steak within the reach of a group of consumers that cannot normally afford prime steak and utilises more of the carcass.
"I was also interested in beef jerky and charcuterie which are very popular in America. The question I wanted to answer was: if they like it so much, why can't we do it here?
"We are now starting to see more beef jerky in convenience stores, supermarkets, pubs and petrol stations. I believe there is a market for farm fresh style jerky and we shall be developing new products in the shop in the coming months."
Reflecting on his apprenticeship learning route, he said: "Neither I nor my employer had any idea how far the apprenticeship would go. It was a case of suck it and see and take every opportunity along the way.
"I had a great passion for the meat industry and felt a connection with it. I liked the idea of taking a raw, base product and then seeing the outcome a few hours later after using my butchery skills.
"Cambrian Training Company opened the door to the competition circuit for me and supported me throughout the qualifications. If it wasn't for the Young Welsh Butcher competition that they run, I probably wouldn't be in the position I am now.
"They have helped to get my name out there and the opportunities that have resulted are far more than I expected. I always remember Clive's advice: no matter how big or small, never turn an opportunity away.
"The apprenticeships have given me the platform to build my career. They have given me an understanding of the business, the skills and knowledge to develop new products, pushed me to better myself and given me recognised qualifications, which are important.
"Clive and Gail have been the driving force behind my success. They have encouraged me and given me the opportunities and resources to get out and do it.
"It's interesting to note that all my schoolmates have finished university and not one of them has a job that they studied for. A lot of them now agree that I made the right decision to choose an apprenticeship.
"In so many jobs nowadays, employers require work experience, which people leaving university don't have. By the time you finish your apprenticeship, you have three or four years' experience."
As for the future, he hopes to compete in the World Butcher competition in few years' time. In the meantime, he will be converting the skills that he has learned into developing new products for the shop
Gail Swan is delighted with Peter's success. "We couldn't have a better employee," she said. "He was our first apprentice and it has been a massive learning curve. Everything about the apprenticeship has been positive and we have all benefited from the training delivered by Cambrian Training Company."
Cambrian Training Company, which has offices in Welshpool, Holyhead, Colwyn Bay and Llanelli, delivers apprenticeships to 1,200 learners and works with around 400 employers across Wales.
For more information please contact Katy Godsell, Cambrian Training Company's marketing manager, on Tel: 01938 555 893 or Duncan Foulkes, public relations adviser, on Tel: 01686 650818.