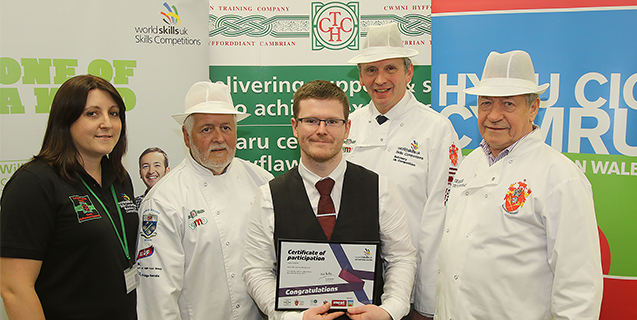 Jake Laidlaw of Andrews Quality Meats in Swindon has been named the winner of the Welsh heat of the Worldskills butchery competition.
The 25-year-old butcher (pictured) said he was really pleased to place first, considering this was his first year competing in the challenge. He overcame competition from 22-year-old Sam Hughes from Brian Crane Butchers in Hengoed; 18-year-old Emily Barber, a student at Reaseheath College; and Connor Sloane, 23, also a student at Reaseheath. The competition's organiser Cambrian Training praised all of the entrants, all of whom were new to the competition, for showing great enthusiasm throughout.
The young butchers were tasked with seaming a topside of beef in 45 minutes, followed by a task which gave them 1 hour and 30 minutes to put together a visually pleasing barbecue display using a variety of different meats.
Although he won the Welsh heat, Laidlaw does not automatically go through to the final at the skills show at the NEC in Birmingham. Rather, the six highest scorers across all heats will advance.
The competition was judged by Keith Fisher, chief executive of the Institute of Meat, Roger Kelsey, chief executive of the National Federation of Meat and Food Traders (NFMFT), and independent meat consultant Viv Harvey.
"What we're looking at is young people – particularly Jake – who put a great deal of effort into his planning to make sure his display was up to scratch in terms of being very clinical, very clean in terms of preparation, and putting on a display that was very informative and with a wide range of products, which were ideally suited for barbecues," explained Fisher.
"What these competitions do – and over the past years we've seen it quite clearly – is once they [the young butchers] have made the commitment to come and do something like this, it then builds their confidence for the future, and that can do nothing but good for the stability of the meat trade."
Dylan Gillespie, of Clogher Valley Meats, won the Northern Irish heat last week, after placing second overall in last year's grand final at the Skills Show.
Training provider Cambrian Training Company organised the competition, with Meat Trades Journal the exclusive media partner. Sponsors include the NFMFT; the Institute of Meat; the Food & Drink Training and Education Council; Hybu Cig Cymru – Meat Promotion Wales and industry consultant Viv Harvey.