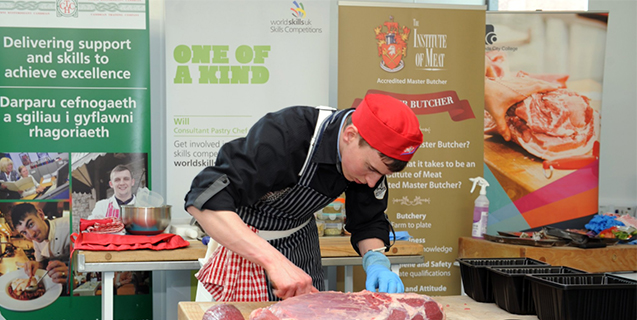 James Taylor has been named the winner of the Leeds heat of the Worldskills butchery competition.
The 21-year-old butcher (pictured) from Simpsons Butchers in Lincolnshire, was praised for his hard work ethic. Independent meat consultant and judge Viv Harvey explained that Taylor's previous experience in the Premier Young Butcher and International Young Butcher competitions allowed him to pick up techniques he was able to put into practice. "That actually stood out in the overall presentation," said Harvey.
"He [Taylor] worked in a nice, methodical order. He looked organised, he looked as though he was confident in what he was doing, his eye for detail was excellent, and his range of products gave innovation and colour a good focal view of his final display."
Harvey, who judged alongside Roger Kelsey, chief executive of the National Federation of Meat and Food Traders (NFMFT), and Keith Fisher, chief executive of the Intitute of Meat, praised all the contestants for the levels of skill on display. "The standards are high," he said. "It's a step-up from last year's heats.
Also competing at the Leeds heat, held at Leeds City College, were Lucy Webster, 25, from Taylors Farm Shop, Lathom, and Simon Davies, 23, Joe Crawford, 16, Richard Silverman, 37, Jay Bennion, 20, and Charles Amor, 17, all from Reaseheath College, Nantwich.
The butchers had 45 minutes to seam a topside of beef, followed by a challenge which tasked them with developing an innovative barbecue display from a range of products in one hour and 30 minutes.
Harvey said that competitions like this were important to showcase the industry and for the butchers to hone their abilities. "It's about showing off their skills, their innovation, their eye for detail, the knowledge of their product – plus it's always a good indicator of seeing what your competitors are doing," he said.
"You learn as much from all the other competitors as you do from yourself. We're in an industry where we see something and think: 'That's a good idea, but I could make it just like this to make it a little different'."
The competition is arranged by training provider Cambrian Training Company, with Meat Trades Journal the exclusive media partner. Sponsors include NFMFT, the Institute of Meat, the Food & Drink Training and Education Council, Hybu Cig Cymru – Meat Promotion Wales, and Viv Harvey.