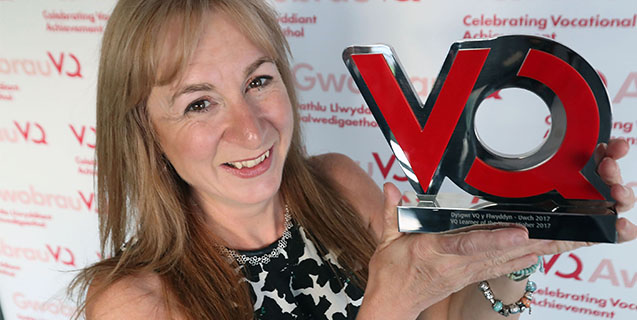 VQ Awards 2017
Redundancy opened the door to a rewarding new career for Julie Mundy who has celebrated the success of her learning journey with a Vocational Qualification (VQ) Award for Wales.
Julie Mundy, 52, a mother of three from Minffordd, near Porthmadog was named VQ Learner of the Year (Higher) at the annual awards ceremony held at St David's Hotel, Cardiff on Tuesday night, the eve of VQ Day on Wales.
She is team leader of the furniture recycling unit at Seren Cyf in Blaenau Ffestiniog, a charity that supports adults with learning difficulties. Her passion for lifelong learning has seen her complete a Higher Apprenticeship (Level 4) in Systems and Operations Management through training provider Cambrian Training Company.
"I was really surprised to win the award because the other finalists were of such a high standard," she said. "I am really pleased for myself, for Heather Martin, my trainer from Cambrian Training Company and for my whole team.
"Heather deserves a lot of credit because she helped me so much through the training and I would like to train other people in the future. I hope workmates will be as proud as I am because it's a great place to work."
A qualified florist who previously worked as a school cook and customer service manager, Julie was forced to find a new job more than five years ago when she was made redundant.
"It was an opportunity to find something that I really wanted to do because I never really thought about a career when I was bringing my kids up," she explained. "The chance to recycle furniture with Seren Cyf was a big pull and I also wanted to support people with learning difficulties."
She leads a team of eight at Seren Cyf and is involved in recycling furniture and textiles collected from the community. She's proud to be the first learner with Cambrian Training Company to complete the Level 4 Diploma in Systems and Operations Management and managed it in less than two years.
"Through the different projects, I have helped divert tonnes of furniture that would have otherwise gone to landfill. Letting people know how we can get the most from our recycling is as vital a part of my role as organising the logistics of bringing it in.
"I'm proud of the work we do and how it has a positive effect on the community as a whole."
Heather Martin praised Julie's outstanding commitment to her qualifications and said she was an excellent role model.
Minister for Skills and Science, Julie James congratulated all the award winners and finalists. "A vocational qualification – VQ award is a symbol of dedication towards your chosen profession," she said. "The awards help us to celebrate those Welsh employers, learners and trainers who are already going that extra mile when it comes to developing vocational skills and qualifications.
"If the Welsh economy is to continue to grow then we must ensure that employers, individuals, training providers and the Welsh Government work together to invest in the right skills for success in order to equip Wales with a world-class workforce.
"Vocational qualifications have never been more important to the economy and the individual, as they deliver the trained, talented employees that businesses are crying out for and ensure individuals have the skills needed to succeed in education and work."
Julie was one of 12 finalists competing for the VQ Awards, which celebrate those who use technical, practical and vocational qualifications to achieve success.
The awards are organised by the Welsh Government, National Training Federation for Wales (NTfW), ColegauCymru / CollegesWales and Qualifications Wales. The Apprenticeship Programme in Wales is funded by the Welsh Government with support from the European Social Fund.
Picture caption:
Julie Mundy with her VQ Award.
For more information please contact Claire Roberts, CollegesWales, on Tel: 029 2052 2500 or 07534 859426, or Duncan Foulkes, public relations consultant, on 01686 650818 or 07779 785451.