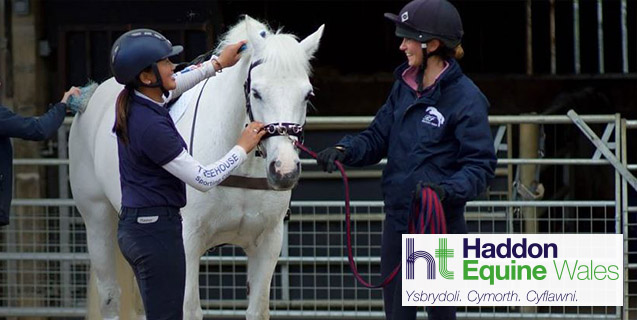 Haddon Training is happy to announce they have been given the green light to deliver the Level 4 Equine Apprenticeship across Wales! This is fantastic news for people who have completed their Level 3 apprenticeship and are looking for the next step.
Haddon Training has 20 years' experience with apprenticeships in the equine industry, and are an award-winning training provider who are recognised by OFSTED as Grade 1: "Outstanding". We are the preferred training provider for British Showjumping, British Dressage, British Eventing, The Showing Council and the British Racehorse Authority.
This Higher Apprenticeship is aimed at Yard Managers whose role it is to ensure the yard runs efficiently. A Yard Manager's responsibility would be the day to day running of the yard including managing staff, care of the horses, all aspects of health and safety and dealing with clients and owners.
The qualification is the EQL Level 4 Certificate in Horse Care and Management (practical) and The Principles of Horse Care and Management (theory). The apprentice would be supported by our highly experienced Trainer-Coaches in the work place, eliminating the need to go off-site for training.
Entry requirements
The Equine industry want the entry requirements for the Higher Apprenticeship to be flexible, so therefore at least that one of the following should be completed:
• Level 3 Diploma in Work-based Horse Care and Management/Racehorse Care and Management Level 3 Extended Diploma in Horse Care and Management
• Level 3 Certificate in Horse Care Level 3 Certificate in Riding Horses on the Flat
• Level 3 Award in the Principles of Horse Care
• At least three years industry experience
Eligibility
• Not to have achieved a Foundation or Degree, NVQ 4 or higher.
• Not be in full time Education; School, College, University or on another Apprenticeship.
• There is no upper age limit, however if you are aged above 20 years old you must have been within your current role no longer than 12 months.
What next?
Employing an apprentice
If you have never taken on an apprentice before you could be eligible for a grant of up to £2,500. We offer a FREE in-house recruitment service to help you find a new apprentice to join your team. If you have an existing member of staff that would like to progress to a Higher Apprenticeship, they could also complete this apprenticeship. Contact us today on 01672 519977 or email enquiries@haddontraining.co.uk
Becoming an apprentice
If you are interested in completing this course and meet the entry requirements, please get in touch with us as soon as possible on 01672 519977 or email enquiries@haddontraining.co.uk