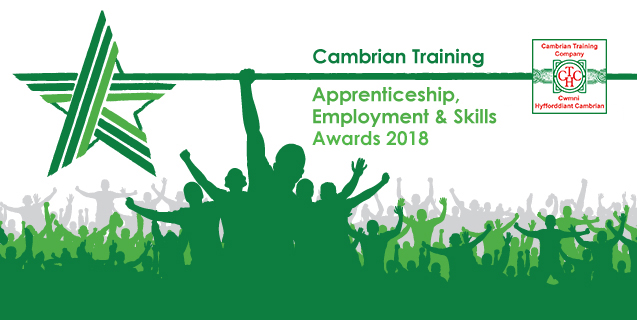 Cambrian Training Apprenticeship, Employment & Skills Awards
Celebrating all that is great about training, apprenticeships and skills in Wales.
Here at Cambrian Training we work with some great employers and learners throughout Wales delivering a range of training, apprenticeship, skills and employment training programmes on behalf of the Welsh Government.
Each and every business, apprentice or learner has their own story and achievement to tell, so to celebrate this we have decided to launch our own awards.
Our Apprenticeship Awards competition rewards individuals and employers who have excelled in the vocational learning and training programmes we deliver on behalf of the Welsh Government; Jobs Growth Wales and/or Apprenticeship programmes across Wales.
These Awards will celebrate the achievements of those who have exceeded expectations during their engagement and commitment to the training & skills programmes and shown a unique approach to training, development, ability to demonstrate initiative and enterprise, innovation and creativity. The Awards will highlight the outstanding achievements of the employers and individuals involved in everything from Jobs Growth Wales to apprenticeship training, throughout North, Mid, South and West Wales.
Categories will include:
Employer Apprenticeship Engagement of the Year Small, Medium, Large & Macro
– Download application form here: Employers Application
Jobs Growth Wales Outstanding Individual of the Year
– Download application form here: JGW-Application
Apprentice of the Year Foundation (Level 2), Apprenticeship (Level 3), Higher Apprenticeship (Level 4+)
– Download application form here: Apprentice Application
The closing date for entries is 31st January 2018 with the Winners revealed at an award's ceremony in March. The ceremony will take place on the evening of 7th March 2018, in the International Pavilion, at the Royal Welsh Showground, Llandrindod Wells.
These Awards also offer our winners in each category the chance to be automatically put forward for the very precious Apprenticeship Awards Cymru that is ran jointly by NTfW and Welsh Government. If you are successful, another application will need to be completed with support from ourselves towards these awards.
The Apprenticeship Programme is funded by the Welsh Government with support from the European Social Fund.
If you have any questions, please contact our Marketing Manager, Katy via email; katy@cambriantraining.com
Good Luck.