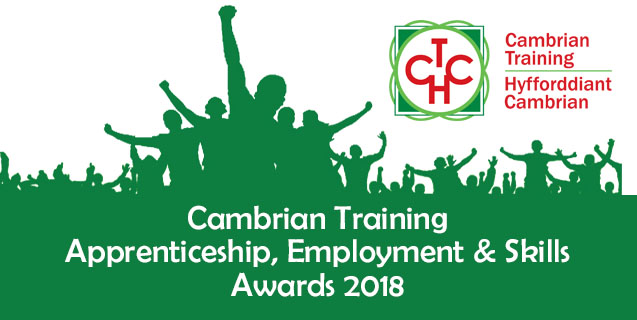 Individuals and employers who have excelled in apprenticeship, skills and employment training programmes delivered by one of Wales' top training companies will be recognized this spring.
Cambrian Training Company, which has offices in Welshpool, Holyhead, Colwyn Bay and Llanelli, is now accepting nominations for its annual Apprenticeship, Employment and Skills Awards, which close to entries on January 31. Employers and learners must be engaged with programmes delivered by Cambrian Training Company to enter.
Held for the first time last year, the awards were a great success, attracting nominations from all parts of Wales. The cream of the 2018 crop will gather at the International Pavilion at the Royal Welsh Showground, Builth Wells for the awards presentation evening on March 7, which coincides with National Apprenticeship Week.
"These awards celebrate all that's great about training, apprenticeships and skills in Wales," said Katy Godsell, Cambrian Training Company's marketing manager. "We are fortunate to work with some outstanding employers and learners throughout Wales as we deliver a range of training, apprenticeship, skills and employment training programmes on behalf of the Welsh Government.
"Each and every business, apprentice or learner has their own story and achievement to tell, which encouraged us to launch our own awards.
"These awards celebrate the achievements of individuals and employers who have exceeded expectations during their engagement and commitment to training and skills programmes and shown a unique approach to training and development and have demonstrated initiative and enterprise, innovation and creativity."
There are Employer Apprenticeship Engagement Awards for small, medium-sized, large and macro businesses together with recognition for the Jobs Growth Wales Outstanding Individual of the Year.
In addition, there will be category awards for the Foundation Apprentice, Apprentice and Higher Apprentice of the Year. The winners of each category will have the chance to be automatically entered for the prestigious Apprenticeship Awards Cymru, which are jointly organised by the National Training Federation for Wales and the Welsh Government, in October.
Last year's Apprentice of the Year, Danny Foulkes, 19, trainee project manager, at Evabuild, Newtown, said: "It was great to be recognised by Cambrian Training Company and made all my hard work and personal sacrifice worthwhile. I have no hesitation in recommending these awards to other apprentices, learners and employers."
Tracy Israel, head of learning and development at the Celtic Manor Resort, Newport, winner of the Large Employer of the Year award last year, also endorsed the awards.
"The Cambrian Training Company award was extremely important to us because it recognised the achievements of the business and its apprentices," she said.  "Apprenticeships form the backbone of employee development at the Celtic Manor Resort and offer a career pathway for people who choose not to follow an academic
route."
The Apprenticeship Programme is funded by the Welsh Government with support from the European Social Fund.
Entry forms are may be downloaded at https://cambriantraining.com/cambrian- training-company- awards-2018/ or Katy Godsell may be contacted on email: katy@cambriantraining.com
For more information please contact Katy Godsell, Cambrian Training Company's
marketing manager, on Tel: 01938 555 893 or Duncan Foulkes, public relations
adviser, on Tel: 01686 650818.