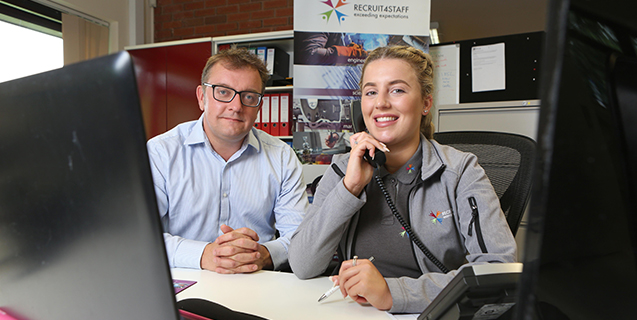 A successful recruitment agency based in Wrexham has taken advantage of the Welsh Government's Jobs Growth Wales (JGW) programme to grow its workforce by tapping into the pool of unemployed young talent in NorthWales.
Recruit4staff, which has a team of 17 staff, has recruited five employees through the programme, four of whom successfully progressed to permanent jobs with the agency after six months.
Paul Stevens, a director of the agency, urged other employers across Wales, who are looking to grow their businesses, to consider JGW before the programme ends in March next year.
"Jobs Growth Wales is certainly an opportunity that employers should consider and the process is easy and quite straightforward," he said. "We were a bit dubious about the programme at first, but we found that there are some good, keen young people out there looking for opportunities.
"We are pleased with the funding support, as it does take a number of months to get people up to speed with our systems of work. We were keen to start increasing our internal headcount and thought the programme would be a cost-effective method of doing it.
JGW is designed to enable growing businesses across Wales to create unique, exciting and sustainable job opportunities for unemployed and job ready young people between the ages of 16-24 years old.
Participants are paid at or above the national minimum wage for a minimum of 25 hours a week. Employers receive 50% reimbursement towards the wages of the young person employed for six months but must offer real job opportunities additional to their existing workforce needs and not a work placement.
JGW vacancies are advertised through a section on the Careers Wales website, to which employers have password access. The programme is supported by the European Social Fund.
Recruit4staff, who plan to take on three more staff in the next year, has accessed the programme through award-winning training provider Cambrian Training Company, which is also delivering apprenticeship training programmes to upskill the agency's existing staff.
One of the three JGW recruits currently working for the agency is 22-year-old Rebecca May from Wrexham who has secured a permanent job as a recruitment resourcer. She is now working towards an apprenticeship in Business and Administration.
Rebecca, who is a media and dance graduate, worked in retail whilst at university and for eight months afterwards before applying for the JGW position at Recruit4staff in March last year.
"The programme has been very supportive of my work and employment and has given me an opportunity to work towards an apprenticeship, which I hope to complete by the end of this year," she said. "I would like to progress to a Higher Apprenticeship with the company.
"I would definitely recommend Jobs Growth Wales to other young people who are seeking employment."
Recruit4staff, which also has an office in Telford, includes manufacturing, engineering, scientific, traffic management, logistics and supply chain, finance, IT, construction, catering and hospitality in its recruitment portfolio.
The agency specialises in finding suitable candidates for both temporary and permanent posts across the UK, but with a focus on North Wales and the Midlands.
Employers interested in offering JGW opportunities are being urged to contact Cambrian Training Company for more information on Tel: 01938 555893.