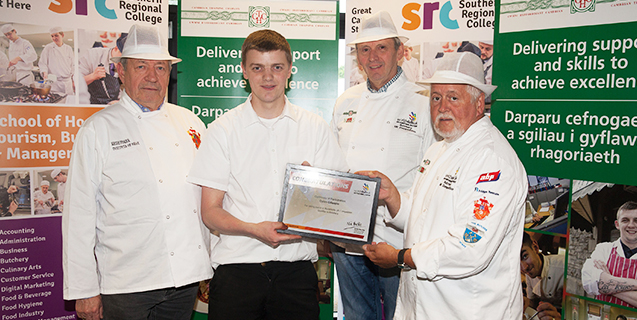 The Northern Ireland heat of the prestigious Butchery WorldSkills UK competition was won by Dylan Gillespie from Clogher Valley Meats, Clogher, Tyrone.
A Butchery WorldSkills UK finalist for the past three years, Dylan has again put himself in with a chance of qualifying for this year's final at The Skills Show at the NEC Birmingham from November 15-17.
He must now wait for the other two UK heats, at University College Birmingham on June 12 and the City of Glasgow College on June 26, to discover if he is one of the six top scoring butchers.
The Northern Ireland heat, held at Southern Regional College in Newry on June 5, saw Dylan put his skills to the test against Saulius Repecka and John Shortland, both from Southern Regional College Portadown.
They were challenged to seam a leg of pork in 45 minutes and to create a barbecue display from chicken, pork, beef and lamb in 90 minutes.
The competition is focused on all the essential skills required for a successful career as a multi-skilled butcher within the food manufacturing industry.
Butchers are tested for overall skill, innovation, creativity, presentation, work ethic, method and approach to tasks, carcass and primal utilisation, waste and safe and hygienic working practice.
In the UK final, the six butchers will complete five tasks over two days in front of a live audience. The Skills Show is the nation's largest skills and careers event and helps to shape the future of the next generation.
The butchery competition is organised by award-winning training provider Cambrian Training Company, based in Welshpool and supported by an Industry Steering Group. Sponsors are specialist awarding organisation FDQ, The Institute of Meat, Hybu Cig Cymru/Meat Promotion Wales and The National Federation of Meet and Food Traders.
The judges were Roger Kelsey from The National Federation of Meet and Food Traders, Keith Fisher from The Institute of Meat and Viv Harvey, a meat consultant.
Katy Godsell, Cambrian Training Company's marketing manager, who organises the competition for WorldSkills UK, said the Northern Ireland heat had been keenly contest, with just one point separating the top two. She thanked Southern Regional College for hosting the heat and its excellent hospitality.
Butchery is one of more than 60 skills to feature in this year's WorldSkills UK Competitions which are proven to help young people go further, faster in their training and careers.
The competitions are designed by industry experts and focus on the highest UK and international standards. They deliver benefits to not only apprentices and students, but also to their employers, training providers and colleges.
Taking part in the competitions equips apprentices with the world-class skills needed to help organisations maintain their competitive edge. More than 95% of past entrants believe that taking part in the competitions improved their technical and employability skills.
Finalists in the heat at University College Birmingham on June 12 are Ashton Lindeman from James of Shepperton Butchers, Surrey, Craig Holly from Neil Powell Butchers, Abergavenny, Peter Smith from Jamie Ward Butcher, Churchstoke and Daniel Allen-Raftery from Randall Parker Foods, Llanidloes.
The Scottish heat finalists at City of Glasgow College on June 26 are Robbie Hughan and Euan McLagan from Blair Drummond Smiddy Farm Shop, Stirling, Connpr Wilson, Stuart Rankin and Erin Conroy from Falleninch Farm, Stirling and Kevin McMillan from A. Donald Ltd, Uddington.
Picture caption:
Dylan Gillespie receives his award for winning the Northern Ireland heat from judges Roger Kelsey, Keith Fisher and Viv Harvey.
Dylan Gillespie in action.
The Northern Ireland heat butchers with the judges and competition co-ordinator Katy Godsell from Cambrian Training Company and Micheal Prunty from Southern Regional College.