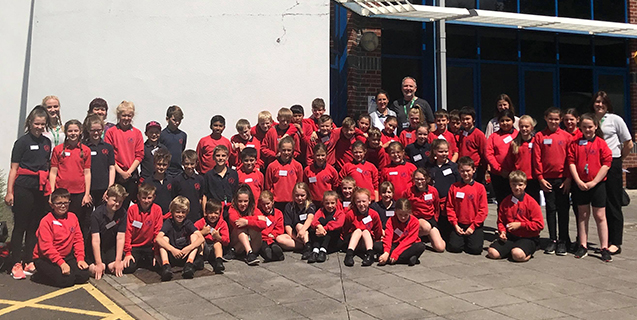 Young innovators of the future have been given an insight into the world of business through a visit to Mid Wales-based Invertek Drives Ltd and neighbouring companies.
Pupils from Llanfair Caereinion Primary School visited the headquarters and global manufacturing centre of Invertek at the Offa's Dyke Business Park at Welshpool, Powys, as part of an enterprise day organised by Cambrian Training Ltd.
The children visited other companies in the business park, including Dynacast, Kingswood Framing, Zip-Clip and Cambrian Training's headquarters.
The pupils toured the offices and production centre at Invertek, meeting teams from innovation, technical, sales, marketing, finance and HR departments, as well as directors.
"A visit like this can inspire a child into realising there are a wide range of careers for them to consider," said Dylan Jones of Invertek Drives. "They might see business units and factories and just think of them having large machines in them. But when you can show them the innovators designing our products, the high-tech production centre and the host of people driving our business forward, then you're planting a seed of opportunity."
Cambrian Training Ltd, which organised the day, said it was important for businesses to work together to inspire children and young people into realising the career opportunities on
their doorstep. "We were keen to organise an enterprise day-trip to the business park so the pupils could learn about business, how they work, how they started and what they do," said Emma
Morris, engagement officer at Cambrian Training Ltd.
"The pupils have been running their own business at Llanfair Caereinion Primary School where they have been tasked with growing a £5 investment. It will culminate in a school fair later in the year. The visit to real businesses allowed them to see what we all do and inspire them for their own enterprise."