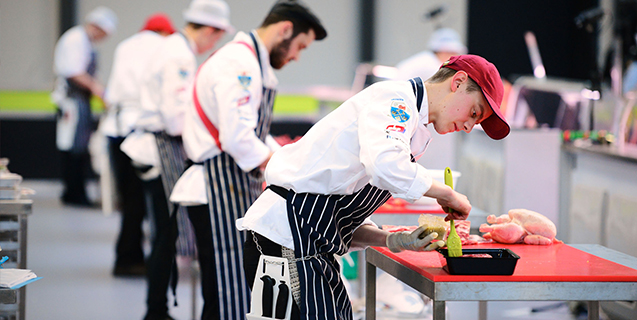 Five talented butchers from across the UK will be contesting the final of the prestigious Butchery WorldSkills UK competition in November.
The butchers earned their places in the final at The Skills Show at the NEC Birmingham from November 15-17 after impressing judges at regional heats for England and Wales, Scotland and Northern Ireland.
The line-up sees two finalists each from Wales and Northern Ireland and one from Scotland. They will complete five tasks over two days in front of a live audience at The Skills Show, the nation's largest skills and careers event designed to helps shape the future of the next generation.
Wales is represented by Craig Holly, 29, from Neil Powell Butchers, Abergavenny and Dan Allen-Raftery, 35, from Randall Parker Foods, Llanidloes. Flying the flag for Northern Ireland are Dylan Gillespie, 23, from Clogher Valley Meats, Clogher and Saulius Repecka, 31, from Emerson's Supermarket, Armagh. Robbie Hughan, 25, from Blair Drummond Smiddy Farm Shop, Stirling is carrying Scottish hopes.
Allen-Raftery is the defending Welsh Butcher of the Year, having won the title at last year's Royal Welsh Winter Fair, while Holly is a former Welsh Pork Butcher of the Year.
This year's winner will follow in the footsteps of James Taylor, from G. Simpson Butchers in Heckington, Lincolnshire who won the competition last November.
The butchery competition is organised by award-winning training provider Cambrian Training Company and supported by an Industry Steering Group. Sponsors are the Food and Drink Education Training Council, The Institute of Meat, Hybu Cig Cymru/Meat Promotion Wales, The National Federation of Meat and Food Traders and ABP.
Interpretation partner for the Butchery WorldSkills UK competition at The Skills Show is Southern College, Newry. College staff and students will be explaining and promoting butchery skills to show visitors.
The competition focuses on all the essential skills required for a successful career as a multi-skilled butcher within the food manufacturing industry. Butchers are tested for overall skill, innovation, creativity, presentation, work ethic, method and approach to tasks, carcass and primal utilisation, waste and safe and hygienic working practice.
To enter the competition, butchers must not have completed a qualification higher than a level 4 in Food Manufacturing Excellence or equivalent. They must have good knife and primary and secondary butchery skills, including seam butchery, good tying and stringing skills, sausage making experience and ability to work under pressure in front of an audience.
Butchery is one of more than 60 skills to feature in this year's WorldSkills UK Competitions which are proven to help young people go further, faster in their training and careers. The competitions are designed by industry experts and focus on the highest UK and international standards.
They deliver benefits to not only apprentices and students, but also to their employers, training providers and colleges. Taking part in the competitions equips apprentices in industry with the world-class skills needed to help organisations maintain their competitive edge.
"It's important that butchery is represented as a skill at WorldSkills UK because it's a real craft that needs to be benchmarked and promoted," said Katy Godsell, Cambrian Training Company's marketing manager who co-ordinates the competition. "Its inclusion for the fourth time is a great tool to raise the industry's standards and profile."