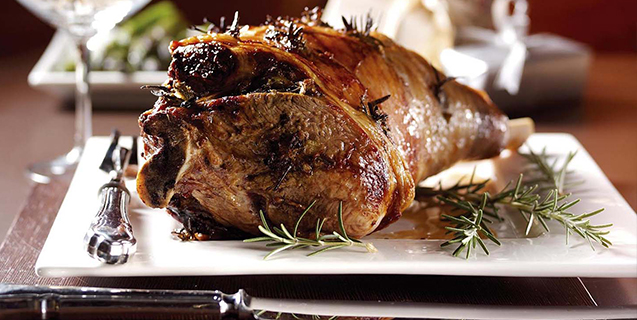 Welsh Lamb is the meat of choice for the new Royal Welsh Winter Fair Taste Test Awards aim to showcase the best of Welsh lamb
New for the 2018 Royal Welsh Winter Fair, the society have joined forces with Cambrian Training, Culinary Association of Wales and Wales Culinary Team, to introduce the Royal Welsh Winter Fair Taste Awards.
Designed to showcase the many speciality products produced here in Wales, this year's event will debut the first class for native Welsh lamb breeds (as the Beaulah Speckled Face shown above Courtesy of breed society) – the Native Lamb breeds of Wales Taste Test.
Breed societies, for all Welsh native breeds listed in the live section of the Winter Fair schedule (15 in total), have been invited to enter the competition where chefs will cook the joints of lamb ready for a panel of judges (and the Winter Fair visitors) to taste and vote for their best tasting breed.
The fresh carcases of each breed will have been bred, born and raised in Wales, will have been grass fed only and will come with full traceability from farm to fork.
This competition aims to highlight the quality of our Welsh native breeds and the distinct flavour differences between each of them, as well as promote Welsh lamb as a premium product to both businesses and consumers.
Taking place in the Cambrian Training building (opposite the bandstand) during the Winter Fair, visitors will not only get a chance to get involved with the Welsh Lamb taste testing, but can also find out more about each of the breeds taking part. Displays will give details on each of the breeds, including information on their unique characteristics.
"This competition is something we feel very passionate about here at the Royal Welsh Agricultural Society" explains Will Hanks, Director of the Winter Fair.
"Not only is it the perfect way to showcase and promote the very best of our native Welsh breeds, it also provides the breed societies and farmers the chance to show that the taste of the Welsh Lamb meat they produce is just as important as how good the animals look in the show rings.
"It is all very well getting the coveted red rosettes, but we need to also promote the excellent quality and flavours of these Welsh Lamb breeds to the butchers, chefs, restaurant owners and ultimately, the consumers." adds Mr Hanks.
The Cambrian Training building is also hosting the two Winter Fair butchery competitions on the Tuesday of the event.
The Royal Welsh Winter Fair will be held on Monday 26 and Tuesday 27 November, at the showground in Llanelwedd. Tickets are now available to buy online at the pre-show discounted price of £13. For more information visit www.rwas.wales
To find out more about The Royal Welsh Agricultural Society and associated shows within the Welsh Country website visit