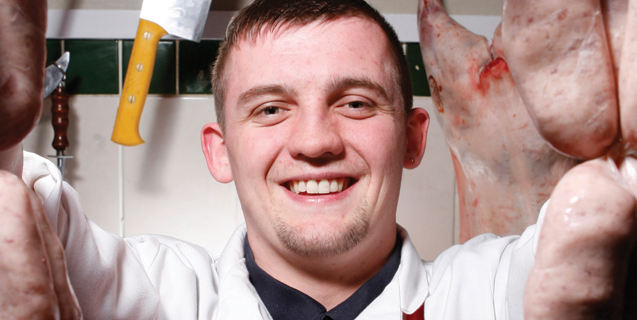 A champion young butcher who employs two apprentices butcher and a health board, which is committed to improving staff skills and patient care, celebrated victory at an awards ceremony to celebrate vocational qualifications in Wales.
Welsh Young Butcher of the Year Tomi Jones, 22, from Llangollen adds the VQ Learner of the Year award to his growing list of honours, while Betsi Cadwaladr University Health Board at Wrexham collected the VQ Employer of the Year award.
The EU-backed awards were presented by Deputy Minister for Skills, Jeff Cuthbert, at a ceremony held at Coleg Morgannwg, Nantgarw, one of three regional VQ Day events in Wales yesterday (Wednesday).
Tomi, who runs Jones' Butchers in Llangollen, beat former Cardiff and Vale College student Leo Hacker, who now works for Royal Garden Hotel, Kensington, London and multi-award winning Helen Wynne, owner of Blythswood Childminding Services, Wrexham, in the final.
The VQ Learner of the Year award recognises learners who clearly demonstrate progression and excellence in vocational studies and have made considerable achievements in their field.
"Winning this award is one of the greatest achievements of my life so far," said the talented butcher, who next month represents Wales in The National Federation of Meat and Food Traders' Premier Young Butcher competition in Birmingham. "It just proves that hard work and dedication gets you to where you want to be."
Jones was nominated for the award by his training provider, Cambrian Training Company, based in Welshpool. Having achieved a Foundation Apprenticeship in Butchery Retail Skills, he is now working towards an Apprenticeship in Butchery Skills whilst also running a shop and employing two apprentices.
The third generation of his family to run the butcher's business, he is passionate about the industry and promoting butchery as an interesting and rewarding career for young people.
Betsi Cadwaladr University Health Board beat Nantgarw-based business services company Capita and Flintshire County Council to take the VQ Employer of the Year Award. This award recognises employers who promote the value of vocational qualifications in the workplace and make a real contribution to improving the skills and national competitiveness.
The health board has put vocational qualifications at the heart of its training and development. A Vocational Education Department has been established and, over the last two years, 110 candidates have gained a level two qualification and 302 candidates have gained a level three qualification.
Benefits include efficient stock control and less waste, widespread improvement in infection control and more patient support at meal times. Maternity support workers have also been introduced through the acquisition of relevant VQs.
Jill Williams, the health board's vocational education manager, said: "I am absolutely delighted. This award is for everybody at the health board who is following a vocational qualification. They are often the unsung heroes and it's fantastic for them to be recognised."
Wales' Deputy Minister for Skills, Jeff Cuthbert congratulated the winners and finalists. "It's important that vocational qualifications become, and remain, first choice options for our brightest and best learners and that their worth is fully recognised. VQ Day plays a key role in securing that objective.
"One of my priorities since being appointed Deputy Minister has been to ensure that vocational qualifications are recognised alongside academic qualifications for their value to the individual and society. That is why, following an independent review of qualifications, the Welsh Government is already taking steps to ensure that vocational qualifications remain relevant, valued and fit for the future.
"I hope that this year's VQ Day will inspire even more individuals to consider a vocational pathway to success, further cementing the position of vocational qualifications at the heart of our economy and national life."
Scott Waddington, Wales Commissioner for Employment and Skills, said: "Vocational qualifications provide an excellent grounding for careers in all sectors of the economy and a valuable framework within which young people can progress at work and build the skills that Welsh industry needs.
"It's vital that these qualifications are made available to as many young people as possible."
Other regional VQ Day events were held at Deeside College's Connah's Quay Campus and The South West Wales Regional Learning Partnership brought together learning providers to arrange 'have a go' activities at Aberavon Shopping Centre, Port Talbot, Oxford Street, Swansea and St Elli Shopping Centre in Llanelli.
Vocational qualifications have never been more important to the economy and the individual, as they deliver the trained, talented employees that businesses are crying out for and ensure young people have the skills needed to succeed in education and work.
VQ Day and the VQ Awards are co-ordinated in Wales by ColegauCymru and the National Training Federation for Wales (NTfW) with the support of the Welsh Government and part funded by the European Social Fund.