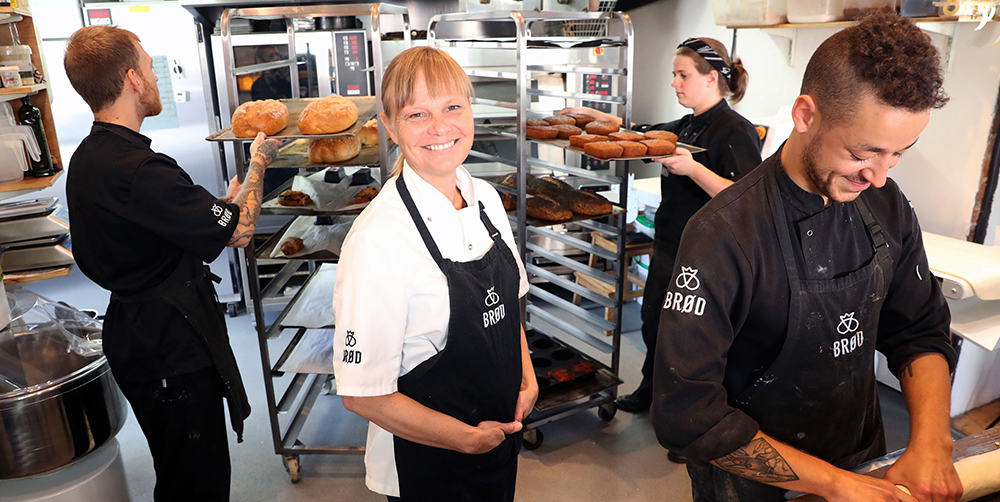 Cardiff's award-winning Danish bakery and coffee shop, Brød, hasn't looked back since taking on its first apprentices shortly after business opened four years ago.
Founded by Betina Skovbro, Brød (The Danish Bakery Ltd) is situated on Wyndham Crescent in the city's Pontcanna area. The business, which currently has two apprentices, is growing steadily – 26% in 2017, 19% in 2018 and 10% projected this year – and is reinvesting its profits with plans for future expansion.
Now the business has been shortlisted for the Small Employer of the Year Award at next month's Apprenticeship Awards Cymru, the annual celebration of outstanding achievement in training and apprenticeships.
Thirty-four finalists in a dozen categories are in the running for the prestigious awards, which will be presented at a high-profile ceremony at the new International Convention Centre Wales, Newport on October 24.
The awards showcase the successes of the best learners, employers, tutors and assessors in Wales who have excelled in contributing to the development of the Welsh Government's Traineeship and Apprenticeship programmes.
Jointly organised by the Welsh Government and the National Training Federation for Wales (NTfW), the Apprenticeship Awards Cymru has Openreach, the UK's digital network business, as its premier sponsor this year. The Apprenticeship Programme is funded by the Welsh Government with support from the European Social Fund.
Betina, a native of Copenhagen, spotted a gap in the market for the bakery and coffee shop, producing freshly baked Danish breads, pastries and cakes.
One of four bakers, she also employs two front of house supervisors and 10 weekend, part-time and full-time staff as Brød is now open six days a week.
A shortage of skilled bakers and a desire to train employees in Danish artisan baking techniques prompted Betina to introduce Foundation Apprenticeships and Apprenticeships in Proficiency in Baking Industry Skills, which are delivered by learning provider Cambrian Training.
Apprentices are encouraged to try out new ideas, one of which was Pappa G's Taste of India sourdough loaf, winner of Britain's Best Loaf in British Baker's innovation award category this year.
"Apprenticeships are now embedded as a core part of our business," said Betina. "We have seen first-hand the ways our apprentices have developed, how their skills and confidence have been enhanced and how they have grown as people.
"The apprenticeship programme has given the business the confidence and capability to grow. Without it, we simply would not exist."
Chris Jones, Head of Cambrian Training's Food Manufacturing Business Unit, said: "Brød is a great example of how an apprenticeship programme can help a business and Betina is one of the most engaged employers we have seen."
Minister for the Economy and Transport, Ken Skates, congratulated Brød and all the other shortlisted finalists.
"Our Welsh Government's Apprenticeship and Traineeship programmes are helping increasing numbers of people to gain the skills and experience that we know businesses across all sectors of the economy in Wales really need," he said.
"The Apprenticeship Awards Cymru provides an excellent opportunity to celebrate and showcase the achievements of everyone involved in those programmes from our star apprentices and employers, to learning providers and trainees."
For more information, please contact Duncan Foulkes, public relations adviser, on Tel: 01686 650818 or 07779 785451 or by email: duncan@duncanfoulkespr.co.uk.