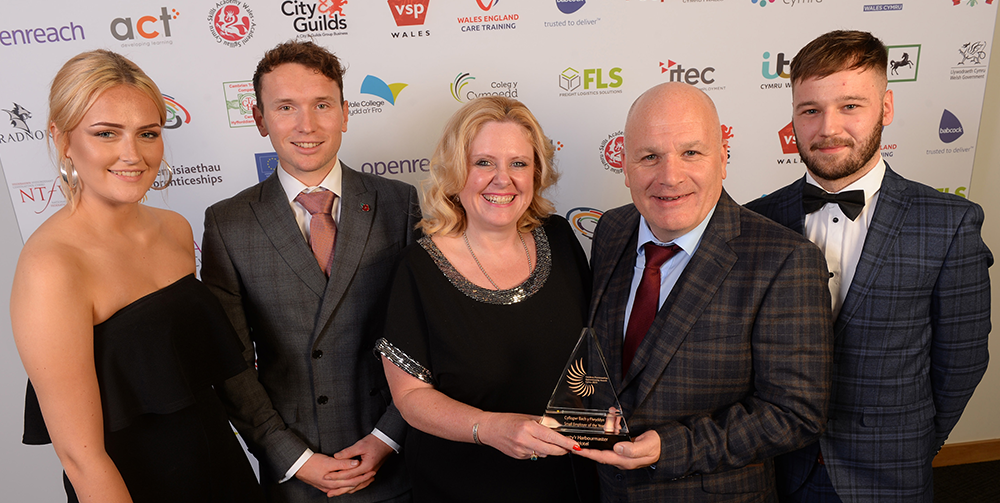 Picture caption: The Harbourmaster Hotel's General Manager Dai Morgan receives the Small Employer of the Year Award from Kim Churcher, Managing Director of sponsor Wales England Care, watched by apprentices.
An independently owned hotel, bar and restaurant on the Mid Wales coast, which grows and nurtures its own staff, has been rewarded with a national award for its strong commitment to apprenticeships.
Gwesty'r Harbourmaster Hotel at Aberaeron was named Small Employer of the Year at the Apprenticeship Awards Cymru, the annual celebration of outstanding achievement in traineeships and apprenticeships, held at the International Convention Centre Wales, Newport.
The awards showcased the successes of the best learners, employers, tutors and assessors in Wales who have excelled in contributing to the development of the Welsh Government's Traineeship and Apprenticeship programmes.
Jointly organised by the Welsh Government and the National Training Federation for Wales (NTfW), the Apprenticeship Awards Cymru had Openreach, the UK's digital network business, as its premier sponsor this year. The Apprenticeship Programme is funded by the Welsh Government with support from the European Social Fund.
Dai Morgan, General Manager of Gwesty'r Harbourmaster Hotel, said: "We are very proud that our apprentices and the company have been acknowledged by this award, which is absolutely fantastic.
"We have had a lot of help from training provider Cambrian Training over the years and have been a sounding board for them. We are a local company that is willing to invest time and money in training and developing the local people who work for us."
The hotel, which has 13 luxury boutique style rooms, is focused on providing a high standard of customer care and visitor experience to maintain its excellent reputation across the UK.
A commitment to apprenticeships has enabled the hotel to maintain a workforce of 40 highly trained and motivated staff as it tries to overcome a hospitality industry skills shortage by growing its own skilled staff.
The Harbourmaster currently has 11 apprentices, has trained 20 over the past five years and plans to recruit more in the future. Cambrian Training delivers a BIIAB Foundation Apprenticeship Level 2, Apprenticeships in Professional Cookery Level 2 and Level 3 with opportunities to progress to the AAA Craft Cuisine, Hospitality Supervision and Leadership Level 3 and Hospitality Management Level 4.
"We take pride in the fact that we nurture home-grown staff to reach their potential whilst working within their home county where they contribute to the local economy," said Mr Morgan. "It has been our aim from the outset to develop a strong team at the Harbourmaster and this has been possible as a result of the apprenticeship opportunities.
"On-the-job training is a valuable asset to any business as it enables the learner to develop skills and knowledge whilst working. It has been noticeable that staff members on the Apprenticeship Programme have shown improvement in their work, a better commitment to the job and a mature confidence in their dealings with hotel guests."
Chris Bason, Cambrian Training's Head of Hospitality, said: "The Harbourmaster Hotel exemplifies how being committed to an apprenticeship programme can bring success to an organisation."
Congratulating The Harbourmaster, Minister for the Economy and Transport, Ken Skates, said: "The Welsh Government's Apprenticeship and Traineeship programmes are helping increasing numbers of people to gain the skills, knowledge and experience that we know businesses across all sectors of the economy in Wales really need.
"The Apprenticeship Awards Cymru provides an excellent opportunity to celebrate and showcase the achievements of everyone involved in those programmes from our star apprentices and employers, to learning providers and trainees. Each one has played a vital role in setting the standard for vocational training and this is to be applauded.
"Increasing higher level skills and developing skills pathways that benefit the whole of Wales has never been more important."
For more information, please contact Duncan Foulkes, public relations adviser, on Tel: 01686 650818 or 07779 785451 or by email: duncan@duncanfoulkespr.co.uk.