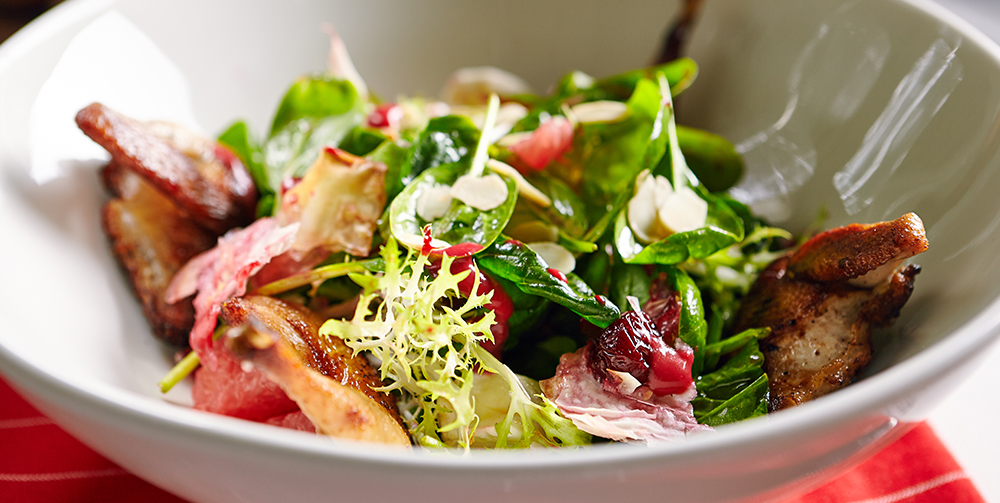 By Nick Davies, Craft Trainer, Cambrian Training
Game Season is the best time of year to try something a little bit different. You've probably enjoyed game's rich, meaty flavour and delicate texture in restaurants, but have you tried recreating these dishes at home?
Why not try this delicious game winter warm salad, this season with family and friends.
Here is a step-by-step guide to preparing and cooking this game warm salad dish:
Serves 4 people
Ingredients
2 Whole grouse
2 Large chicory heads
1 Tbsp. sherry vinegar
50g Duck fat
30g Butter
20g Castor sugar
25g Walnuts chopped
4 Pickled walnuts
10ml Nut oil
1 tbsp. sherry vinegar
1 tbsp. Dijon mustard
1 Bunch frisee lettuce
Salt & pepper
Preparing & Cooking your Warm Grouse Salad:
Preheat the oven to 200c
Line a baking tray with parchment paper
Trim the chicory, removing brown leaves, but do not cut off the stem at the bottom, because this holds the chicory together. Cut the chicory in half lengthways, and then cut each half into four equal pieces length ways. Next place the chicory onto the baking sheet and drizzle with the sherry vinegar.
Dot the chicory generously with butter and season well, sprinkle the chicory with castor sugar and cook in the oven for 15 minutes
Check the chicory after 15 minutes. If it has started to brown, turn it over in the melted butter add the chopped walnuts and return to the oven for a further 5 minutes until walnuts and chicory is almost golden-brown remove and allow to cool
Remove the legs and wish bone from the grouse leaving the two breasts on the crown. Melt the duck fat & butter in a frying pan over a medium heat. Add the grouse and cook for 2-3 minutes basting until browned, then turn over and cook for a further 8 minutes in a medium oven, or until cooked to your liking. Set aside to rest for 5 minutes, and then remove the breasts from the crown & carve each breast into thin slices.
For the dressing place nut oil, sherry vinegar and mustard into a bowl and mix well season to taste.
To serve place the frieze salad and chicory into a bowl then evenly divide onto the four plates arrange the grouse, sliced pickled walnuts then sprinkle the roasted walnuts and drizzle over the dressing.
The art of preparing game develops skills learnt by apprentices when working towards an Apprenticeship Level 2 or Level 3 in Craft Cuisine and covers preparing and cooking of a range of game. For more information about Apprenticeships contact Cambrian Training at cambriantraining.com or Tel: 01938 555893.