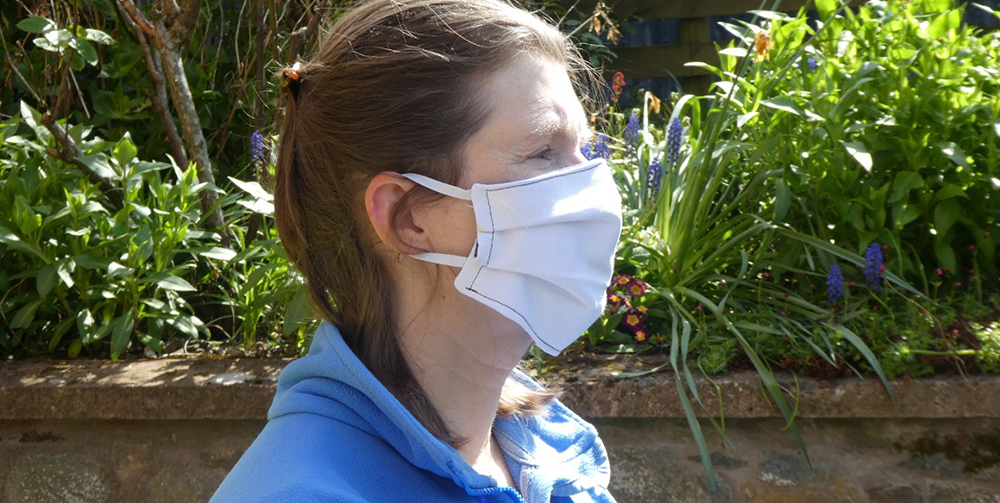 Coronavirus front line workers across Wales are receiving potentially lifesaving face masks, surgical caps and scrubs made by staff employed by award-winning learning provider Cambrian Training in their spare time.
Lisa Jagger, a hospitality training officer from Llanelli, was the first employee to start making the personal protective equipment (PPE) and she and her mum, Bethan Evans, have now made more than 2,000 pieces for West Wales care homes, community nurses and Singleton Hospital, Swansea.
She has made video tutorials to show fellow staff members how to make the items. She began making the PPE when local community nurses in Llanelli asked if she could make 30 masks.
She and her mum have since made masks for care homes and a company caring for disabled people as well as scrubs for Singleton Hospital.
"We are trying to give something back to the community," said Lisa, 34. "You have all these people doing such amazing work while we are doing our best at home to support them.

"It's nice to make somebody feel they have protection when they go to work, and we have also started making masks for elderly people in the community.

"The local community has been amazing with its donations of fabric and my sister-in-law, who runs an embroidery company, donated a lot of chef's whites that had been made for a competition that had to be cancelled.

"I think it's brilliant that my Cambrian Training colleagues are also supporting their communities by making masks and surgical caps."
One of the homes Lisa has supplied is Towy Castle Care Home, Carmarthen where shift manager Karen Bowen said: "Lisa has been amazing, making us 80 masks which were so colourful and well made. It made me feel good and cheerful seeing the staff wearing different coloured masks and the residents liked them."
Another recipient of masks was Melbourne House Care Home, Cross Hands. "Lisa is a friend from school, and she contacted us asking if we would be interested in having masks," said director Catrin James and manager Caren Thomas. "We took up Lisa's offer and had masks made for the staff.

"This enabled them to use the masks as a shielding purpose as we are aware from the evidence that the virus can be spread by people who are infected but don't show any signs. The masks became a preventative measure.

"We are now wearing surgical masks as directed by Public Health Wales and these are being provided by the local authority. To date, the virus has not impacted our home.

"We are aware of the pressure throughout all health services in relation to the need for PPE, however we have to state that Carmarthenshire Local Authority, the Commissioning Team and Care Inspectorate Wales have been truly supportive in relation to our staff and service users' needs."
Many of Cambrian Training's staff have been making the PPE from chef's jackets which have been donated by chefs across the UK in response to an appeal by Arwyn Watkins, OBE, Culinary Association of Wales president and Cambrian Training's managing director.
Heather Parry, an employability skills tutor from Welshpool, has completed 16 masks and four surgical caps so far. "I have a sewing machine and wanted to help in anyway I could," she said. "I know they will be put to good use."
Jane Gammon, business administration and management training officer from Pembrokeshire, has followed Lisa's videos to make masks for her local community using some of her husband's old shirts and chef's whites.
Her masks have gone to local care homes, a childcare centre and Post Office staff in Milford Haven, community drivers and friends who work on the front line.
Some material has been donated in return for masks, which she makes in response to requests received mainly via Facebook.
Sonja Williams, partner of Cambrian Training's business engagement officer Andrew Thompson, has also contributed 50 masks made from chef's whites and sheet material. "I just wanted to do something to help," she said.
Many of the PPE items are distributed across Wales from a central collection point in Welshpool.
Mr Watkins said: "I applaud our staff for their commitment to make this PPE in their spare time and thank members of the community who have donated material.

"The whole of the UK has come together to support this effort, with members of the Culinary Association of Wales, British Culinary Federation and Federation of Chefs Scotland all donating surplus chef's jackets for this great cause.

"Any surplus PPE that is made by our staff will be redistributed to countries around the world that need it. I have already received one request from Botswana."
Anybody wishing to receive face masks or to donate chef's jackets or spare material, is asked to contact info@cambriantraining.com
For more information, please contact Arwyn Watkins, Cambrian Training's managing director, Tel: 07831 697494, or Duncan Foulkes, public relations adviser, on Tel: 01686 650818.