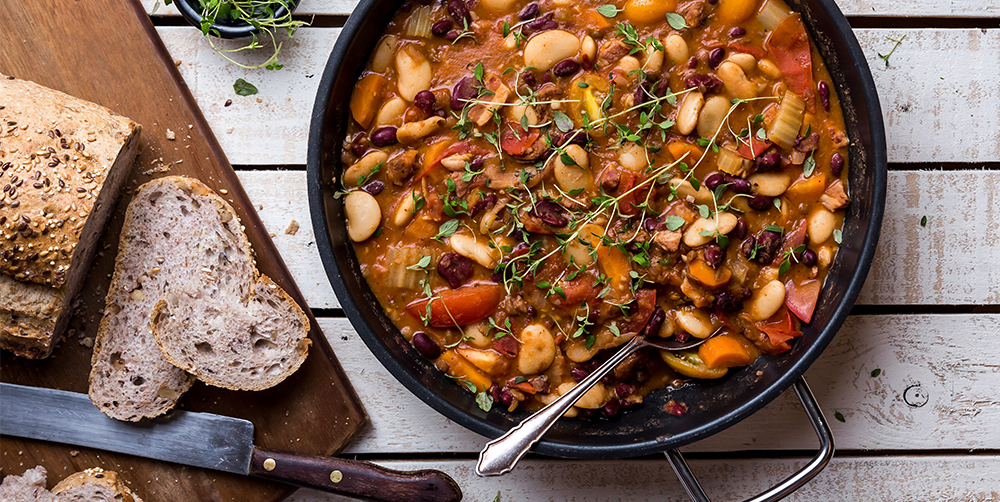 Spicy Braised BBQ Beans
by William Richards, Training Officer in Hospitality
As the summer holidays are fast approaching, why not try out this fantastic recipe of Spicy Braised BBQ Beans, Sourdough toast and Hafod Cheese on your campfire at home or whilst camping to feed your family & friends a true Welsh delight.
Here is a step-by-step guide to preparing and cooking this wonderful outdoor dish that serves 4:
Ingredients
2 red onions
Stock (whichever flavour you preferred)
4 Garlic cloves
100g brown sugar
50ml red wine vinegar
Chorizo Sausage Log
1 Tin Butter Bean
1 Tin Kidney Bean
1 Tin Haricot beans
2 Tins chopped tomatoes
1 Tin Piquillo peppers
2 tbsp. Smoked Paprika
2 tbsp. BBQ Dry Rub
200g Hafod Cheese
Sourdough
Olive Oil
Equipment
Camp Fire/Camping stove
Medium sized saucepan
Wooden Spoon
Knife
Chopping Board
Tongs/Long Skewers
Grater
Preparing & Cooking your BBQ Beans Dish:
To begin, place a pot over the camp fire and heat with a drizzle of olive oil
Dice the red onions, crush the garlic to a paste and place into the hot oil and cook until softened
Add in all the beans, largely chopped Chorizo and seal in the hot oil until slightly coloured
Next, add in the dry spices and cook for 1 minute to release the flavours
Add in the red wine vinegar, brown sugar and reduce
Once the vinegar has reduced, next roughly chop and add in the Piquillo peppers
Pour over the chopped tomatoes and stock to cover just over the beans
Braise slowly over a low heat for 45/50 minutes until the pot has reduced and matured
Season to taste then remove from the heat
Once the beans are ready cut the sourdough into thick slices and toast over the open fire using tongs or skewers
Serve with the BBQ beans on top of the sourdough and shave or grate Welsh Hafod cheese over the top and allow to slightly melt for the best finish.
Top Tip – Substitute the Chorizo for Cep Mushrooms and remove the Hafod Cheese to cater for your Vegetarian and Vegan guests
Braising is a way of cooking meat, fish, seafood or vegetables by first searing the item in hot fat, and then simmering it, covered, in liquid to finish. Braising differs from stewing in that the item to be cooked is usually in large pieces, as opposed to smaller pieces for stews. In addition, the amount of liquid used in braising is less than for stewing, normally barely covering half of the item to be braised.
Mastering the art of Braising is a key technique for apprentices to have in their reportoire as they can utilise cheap local products, cuts of meat and elevate the flavour when handled and cooked correctly. Apprentices develop these whilst working towards a Foundation Apprenticeship in Professional Cookery and Craft Cuisine Level 2. For more information about Apprenticeships contact Cambrian Training Company at cambriantraining.com or Tel: 01938 555893.