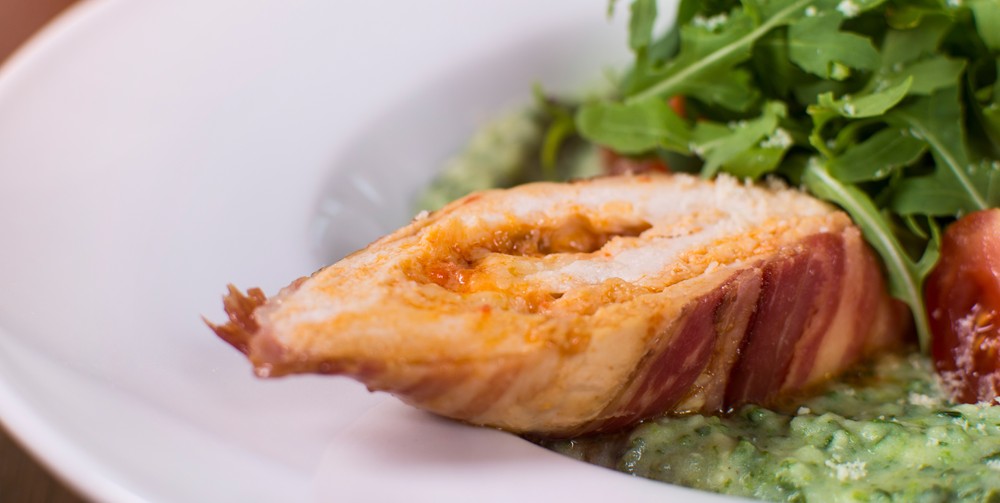 Serves 4 people
Ingredients
4 Whole chicken legs
100g Chopped mushrooms
200g Sausage meat
20 Rashers pancetta
1 Bunch fresh tarragon
Pomace oil
100g Unsalted butter
Method
Trim the ends of the drumsticks. With a small knife make a cut around each chicken leg, about 3cm up from the knuckle end. Holding the leg , squeeze the skin tight, and then scrape down to the bottom of the bone to remove the tendons and clean the bone, rotating the leg as you go. Now position your knife across the bottom of the exposed bone and push down on the knife to leave a clean break.
Put the chicken legs skin side down, pull the flaps of skin back and cut the flesh with a small knife on either side of the thighbone using the tip of your knife. Once the bone is clean, remove it with your fingers to free it from the drumstick. You now should have a part boned chicken leg.
Sweat off the mushrooms in a little oil until soft, season allow to cool. When cooled add the sausage meat and chopped tarragon. Place the mixture with your fingers right to the top of the thigh, then close the flaps and pull the skin across to secure. Now roll the legs over to make a cylinder as neat as possible, then hold the exposed bone and pull out each leg straight.
Cut four sheets of foil enough to wrap each leg comfortably. Lay 5 rashers of pancetta onto the centre of each sheet, then put the chicken legs crossways over the pancetta, then roll the the legs in the foil tightly into a cylinder shape twist to make a cracker like shape.
Preheat the oven to 200c, place the chicken parcels on a baking tray and cook for 15 minutes turning them twice. Turn the oven down to 160c and roast for a further 30 minutes, probe to ensure that the core temperature is 75c, then remove and allow to stand for 10 minutes unwrap the foil.
Heat some oil and butter in a non-stick sauté pan until hot then put the chicken legs in the pan and brown over a high heat on all sides, basting frequently and turning with a pair of tongs add some more butter to brown remove from the pan allow to rest.
Cut the stuffed end of the thigh on a diagonal into thick slices and serve.
If you enjoy cooking and would like more information about our apprenticeships for chefs, please take a look at our Hospitality Apprenticeship Page >>