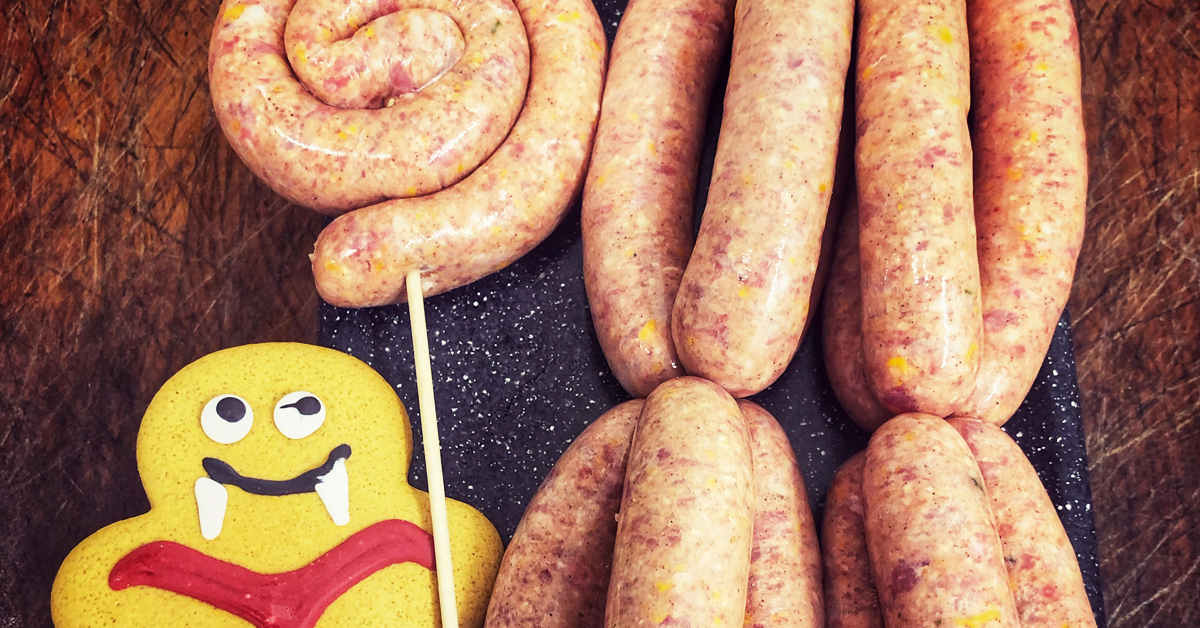 Although this week's events for National Sausage week have been cancelled due to the pandemic, there is no stopping our apprentice butchers and Craft Butchery Team Wales mates Ben Roberts from M.E. Evans Ltd in Overton & Craig Holly from Chris Hayman Butchers in Maesycwmmer from creating their very own Halloween themed sausages!
As part of their apprenticeship, they've worked together with their team mates to come up with an original themed banger, tying two of the biggest Halloween flavours together from gingerbread men & pumpkins.
Ben & Craig have completed Foundation Apprenticeship Level 2 & Apprenticeship Level 3 in Meat & Poultry Industry Skills & Food Management and progressed onto a Higher Apprenticeship Level 4 in Food Manufacturing Excellence. They are both highly skilled & knowledgeable butchers. Find out more about our Butchery Apprenticeships >>
Have a go at making these lovely sausages yourself with the recipe below or you can purchase ready-made Spiced Pumpkin & Gingerbread Sausages from our apprentices themselves; Chris Hayman Butchers in Maesycwmmer or M.E. Evans Ltd in Overton
Spiced Pumpkin & Gingerbread Sausage Recipe
To create a 5lb sausage mixture of Spiced Pumpkin & Gingerbread sausage you will need:
Ingredients
1.5kg Fresh Welsh Pork Mince (shoulder pork preferably)
0.275kg M. E. Evans Secret Sausage Blend or 40g Royal Welsh sausage seasoning
10g (2 teaspoons) Ground Cinnamon
10g (2 teaspoons) Ground Ginger
5g (1 teaspoon) Mixed Spice
20g Finely Diced Apple Pieces
300g Finely Diced Pumpkin
30g Golden Syrup
180g Rusk
450ml Cold Water.
Method:
Combine all the spices and secret sausage blend in a bowl.
Place the fresh pork mince in a separate mixing bowl.
Add the spice blend to the pork and mix well.
Add the diced apple and pumpkin pieces and mix.
Stir in the syrup and slowly introduce the water, mixing until all absorbed.
At this point you can either fill out into sausage skins, or if available mince the mixture through an 8mm plate to combine the flavours further.
Link the filled sausage skins to the desired length. Alternatively, twirl the sausage into a spiral and skewer through with a bamboo skewer, creating a candy cane shaped sausage lolly.
Rest in a fridge for a minimum of 6 hours to allow the flavours to fully develop before cooking
Top tip; don't forget you could make a lovely warming soup (Link to recipe) with the rest of your pumpkin and still carve them up for scary decorations for the family to enjoy at home.
Recipe by Apprentice Butchers; Ben Roberts from M.E. Evans Ltd in Overton & Craig Holly from Chris Hayman Butchers in Maesycwmmer
If you would like to hire or become an apprentice, please contact the team on; info@cambriantraining.com