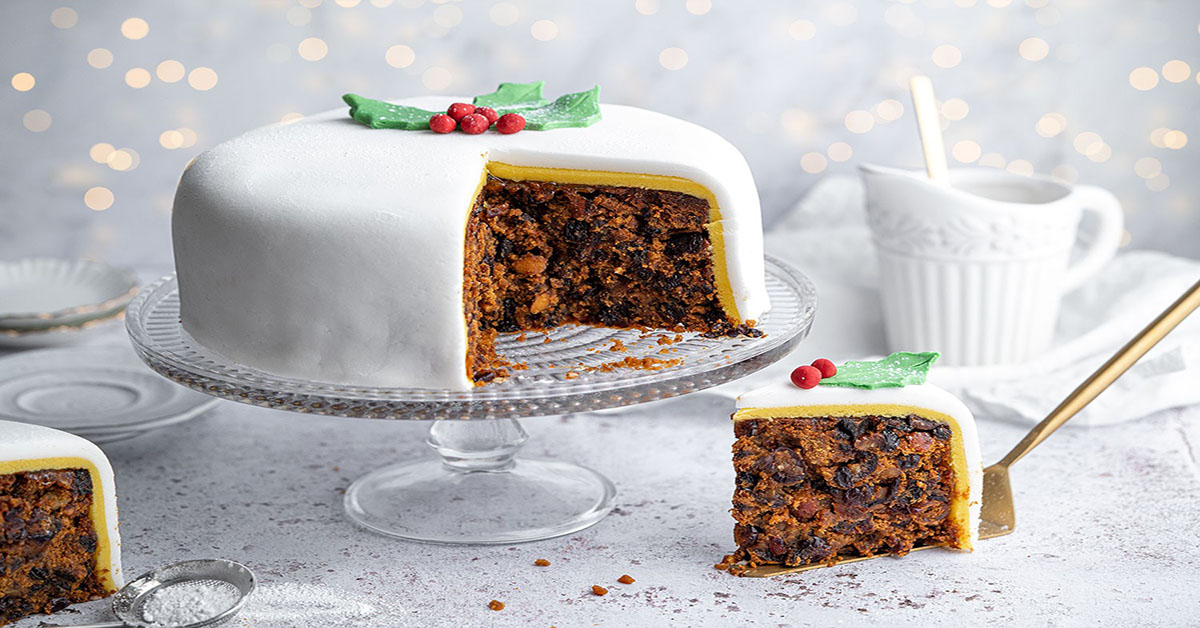 We've seen a huge increase in Vegan dishes on our menus lately and this has attracted the attention and support of many Celebrities. Veganism is now a popular lifestyle that includes abstaining from eating animal-based products and products such as butter, eggs or even honey. Some of the reasons for choosing veganism are based on environmental sustainability claims and this has led to chefs becoming more and more creative to meet those needs as the trend grows. We at Cambrian considered how that would affect the way we deliver our Professional Cookery apprenticeships and how we need to adapt some of the course requirements in response to this.
One of our Hospitality Training Officer Tim John gave the team a presentation on Vegan cakes and the judging panel couldn't really tell the difference. If you have a family member who is vegan why not surprise them this year with a Vegan Christmas Cake. Here is one that Tim John has produced. We have included the recipe for the cake, marzipan and icing, all are vegan.
We hope you enjoy cooking this cake and why not share a photo of your cake on our Facebook page – facebook.com/CambrianTrainingCompany
---
Vegan Christmas Cake Recipe
Ingredients
1kg mixed dried fruit (Tim has used a variety of dried fruit including prunes and figs)
1 Orange (juice and zest)
1 Lemon (juice and zest)
150ml of Rum
250g coconut oil or coconut butter
200g soft brown sugar
100g flaked almonds
4 tbsp chia seeds
175g Self raising flour
100g ground almonds
2 tsp mixed spice
1 tsp ground cinnamon
¼ tsp ground cloves
Method
Place all the dried fruit, juice and zest, rum, coconut oil, sugar and spices into a large saucepan and bring slowly to the boil then quickly lower the heat and allow to simmer for a few minutes so that the sugar dissolves. Tip the mixture into a bowl, allow to cool then cover with cling film and leave overnight in the fridge. Prepare your cake tin in advance by lining with baking parchment and you can also wrap a layer of foil around the outside of the tin to prevent the cake from cooking too quickly.
In the morning you will need to mix your chia seeds with 150ml of water and leave to sit until the seeds become thick and gel like. Add this to your bowl along with the almonds and flour and mix well before pouring into your tin. Cook at 150C/130C fan/gas 2 for around 2 hours. Remove the cake from the oven and allow to cool. You can now feed the cake over the next few weeks with more rum before you cover in your Vegan Marzipan and Vegan Icing but don't feed the cake for a week before you do that to make sure the surface has dried.
---
Vegan Marzipan Recipe
Ingredients
90g + 1 tbsp blanched and finely ground almond flour
70g Icing Sugar
20ml water or a liquid sweetener
¼ – ½ tsp almond extract
½ tsp rose water
Method
Put the icing sugar and almond flour into a food processor and blitz until they are really smooth
Ass the water or liquid sweetener, almond extract and rose water and do a few short pulses until the dough starts to form a ball. If your dough does not hold together just add a little water or the liquid sweetener but be careful not to add too much.
Remove the mix from the processor and knead on a clean surface. Shape into a log and cling wrap then refrigerate to firm up.
---
Vegan Royal Icing
Ingredients
9 tbsp chickpea brine, the water drained from a can of chickpeas
500 g / sifted icing sugar
2 tsp vegetable glycerine
Method
Whisk the chickpea water with an electric mixer until it becomes fluffy before adding about 400g of the icing sugar slowly then continue mixing at high speed until the mixture gets thick and looks glossy.
Stir in the rest of the sugar with the glycerine and keep mixing until soft peaks are formed.
If you need your icing to be thicker then slowly add more icing sugar until you reach required thickness
You can store the mixture for a few days but cover and keep at room temperature.
If you enjoy cooking and would like more information about our hospitality apprenticeships, please take a look at our Apprenticeships page