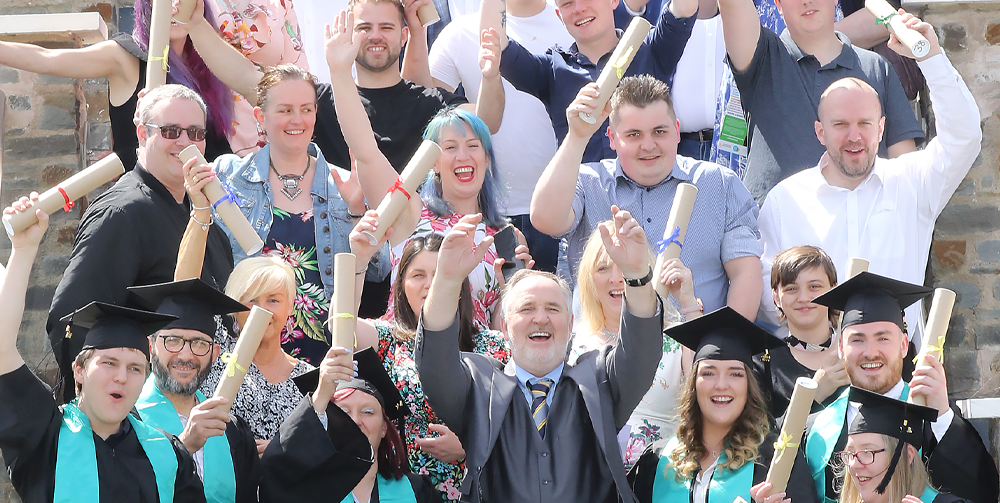 A few days ago, on the 14th of June, we are proud to have held our first ever graduation ceremony. An exciting event celebrating the commitment, passion and success of this year's graduating learners.
The event was a great success, with over 40 apprentices and their family and friends coming together to celebrate their achievements at the four-star Metropole Hotel & Spa in Llandrindod Wells.
Everyone enjoyed a buffet lunch on arrival and a traditional ceremony, where individuals stepped on stage to accept their scrolls wearing caps and gowns; with professional photographs taken throughout.
Celebratory drinks closed the event with lots of smiles and cheers and the chance for families to capture the special moment with their own photos.
We run events such as these to show our support for employers, learners and their communities and to spread the word about the many benefits of apprenticeships in Wales.
Managing Director, Arwyn Watkins gave a heartfelt welcome speech where he congratulated everyone attending and encouraged them to go forward and be ambassadors for apprenticeships and the career progression they provide.
He explained that apprentices earn while they learn from real industry experts and at a pace that suits them with support from a mentor. They learn skills wanted by employers and have better long-term salary prospects and excellent career progression opportunities.
Arwyn Watkins OBE went on to praise the mentors, training officers and private partners who are essential in the delivery of the apprenticeship programmes across Wales.
We work with a number of partners to assist in delivering apprenticeships including Babcock, Lifetime and Progression Training, all of whom also attended to support their learners and Cambrian Training.
Follow the link here to see all photos from the day: https://www.cambriantraining.com/wp/en/graduation-2022-2/
Find out what apprenticeships can do for you or your business by emailing us at: info@cambriantraining.com or giving us a call on: 01938 555893