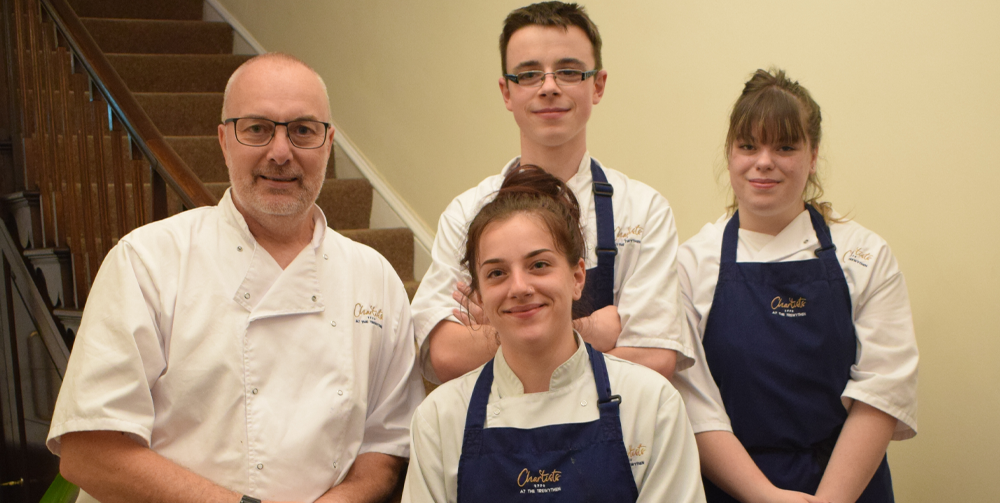 Following refurbishment, the restaurant Chartists 1770 at The Trewythen is set to reopen on September 5th and will focus on developing apprentices to become the next generation of staff for the hospitality industry.
Situated in the historic market town of Llanidloes, the restaurant accommodates 50 covers and includes outdoor dining pods for groups of up to 6 guests to enjoy.
The Chartists 1770 restaurant is part of the popular Trewythen, which boasts seven luxury en-suite rooms and has still been busy welcoming guests throughout the summer.
Executive chef Paul Fox has been appointed to lead a team of talented apprentices at the training restaurant, owned by us here at Cambrian Training Company.
Paul, who trained in the Army Catering Corps with our Managing Director Arwyn Watkins, is looking forward to working with apprentices to introduce a modern dining experience using local Welsh produce.
"Our mission from the outset has been to establish a training restaurant with rooms to develop and nurture a team to showcase Welsh produce," said Arwyn.
"Paul will be sharing his vast experience and knowledge, ranging from fine dining to contract catering and events, with apprentices to develop the head chefs of the future. The apprentices will not only learn how to cook but also develop their kitchen management skills. I am really positive and excited about the potential of this business."
A conversation with Arwyn earlier this summer resulted in Paul being offered the job in Llanidloes. "I love the whole ethos of Chartists 1770 at The Trewythen being a place for young people to learn," newly appointed Paul stated.
"It's not about me; it's about me coaching, mentoring and developing the apprentices. We are trying to create menus and recipes that all our apprentices can cook and we will be encouraging them to contribute their own ideas."
"Customers can look forward to young people from the town producing a modern dining experience for them using quality Welsh produce. The emphasis on Welsh produce and Welsh suppliers is everything that I believe in."
Alongside Cambrian Training Company, everyone at The Trewythen is keen to play their part in bringing an exciting new dining experience to the local community, as well as establishing Llanidloes as a popular tourist destination at the gateway to the Cambrian Mountains.
To find out more about this innovative training restaurant with rooms or to book please visit: https://www.trewythenhotel.wales/
Or to discuss what apprenticeships can do for you or your business email us at: info@cambriantraining.com or give us a call on: 01938 555893