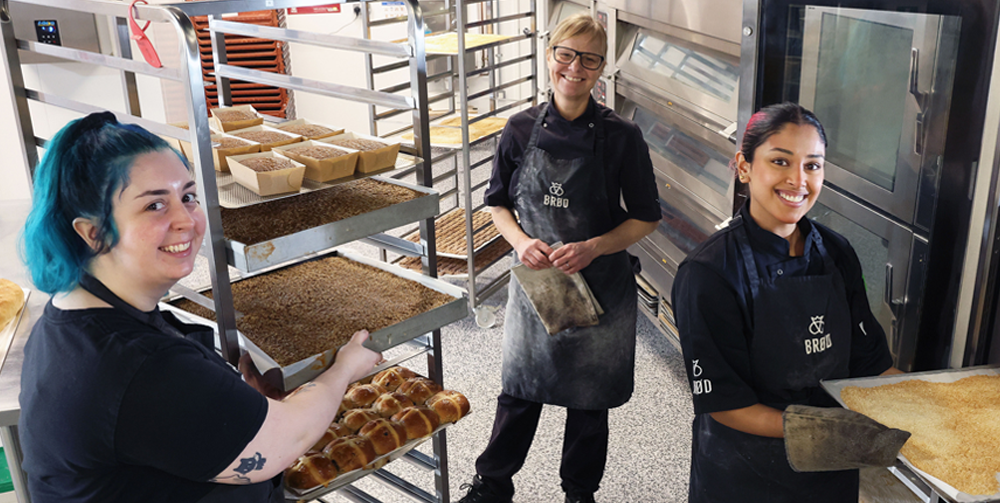 Former professional photographer Betina Skovbro is enjoying the sweet taste of success following her decision to focus on a successful baking career that continues to rise.
Betina, who's originally from Copenhagen, launched artisan bakery, Brød, in Cardiff in 2015 because after spotting a gap in the market for freshly baked Danish breads, pastries and cakes.
Eight years later, she's employing 25 people in a state-of-the-art bakery and two coffee shops, has a series of awards under her belt and has exciting plans in the pipeline to expand her business, as she continues to reinvest profits.
The new 2,000 square feet bakery is in Roath, Cardiff while the two coffee shops are in Pontcanna area of the capital and in Penarth. The bakery also runs a takeaway service between 8am and 2pm for people to buy freshly baked products, tea and coffee.
Betina credits her business success to hard work, dedication and growing her own skilled staff by using the Welsh Government's Apprenticeship Programme, delivered at Brød by Cambrian Training Company, an award-winning pan-Wales training provider. The apprentices learn Danish artisan baking techniques.
Brød hasn't looked back since taking on its first apprentices shortly after the business opened. One of them, Rebekah Chatfield, is now the head baker, leading a team of six, which includes two current apprentices, Clara White, 26, and Zeba Nessa, 26, who are working towards an Apprenticeship in Proficiency in Baking Industry Skills.
Betina has had seven apprentice bakers in the business to date and plans to employ many more in the future to fully utilise the new bakery, which opened last October.
"I support apprenticeships because for me it's all about training the next generation in the baking industry and growing your own talent," she says. "You can't expect an industry to have skilled people if you don't train them yourself.
"When you find someone who's passionate about your profession, the best thing you can do is to keep growing their skills. You have to invest in skilled staff for the long term.
"Apprenticeships are now embedded as a core part of our business. We have seen first-hand the ways our apprentices have developed, how their skills and confidence have been enhanced and how they have grown as people.
"We have been with Cambrian Training Company for six years and they have been very supportive in helping me to grow the business using the apprenticeship programme."
Looking to the future, Betina says the purpose-built bakery will allow her to employ and train more apprentices, to run a baking school and to expand her customer base. She's also considering opening more Brød coffee shops.
Zeba, a Mathematics honour graduate, loves home baking and feels her apprenticeship is preordained. Following a surprise break to Denmark in December, she made a New Year resolution to try and find a baking job.
She then saw the vacancy for an apprentice baker at Brød, secured the post and started work on March 6. "It was like a series events leading up to this – a funny way of the universe telling me that I should take the job," said Zeba.
"From day one, I have been folding pastry, learning how to make icing and the staff have trusted me with everything. It's a nice, homely atmosphere and I am loving it.
"As part of my apprenticeship, I am so excited that I get to come up with two brand new products and ideas that I can execute, design and make. I had always wanted to get into the food industry but lacked the required experience, so this apprenticeship is a great opportunity for me."
Fellow apprentice Clara, who lives in Barry, hopes to complete her apprenticeship by early summer. A Food Science graduate, she previously had a desk job at a cake manufacturer but wanted a more hands on role which the apprenticeship at Brød has provided.
She has learned pastry and breadmaking skills and hopes to progress to patisserie before eventually, sometime in the future, fulfilling a dream of running her own business.
"The apprenticeship is hard work but it has paid off for me with the skills that I've learnt and it has definitely made me more confident in how I work," said Clara.
"Mark Llewellyn, my training officer from Cambrian Training, has ensured that I have kept on track with my apprenticeship and bakery manager Becky Chatfield, who's a really good teacher, has been a huge help."
The Apprenticeship Programme in Wales is funded by the Welsh Government with support from the European Social Fund.