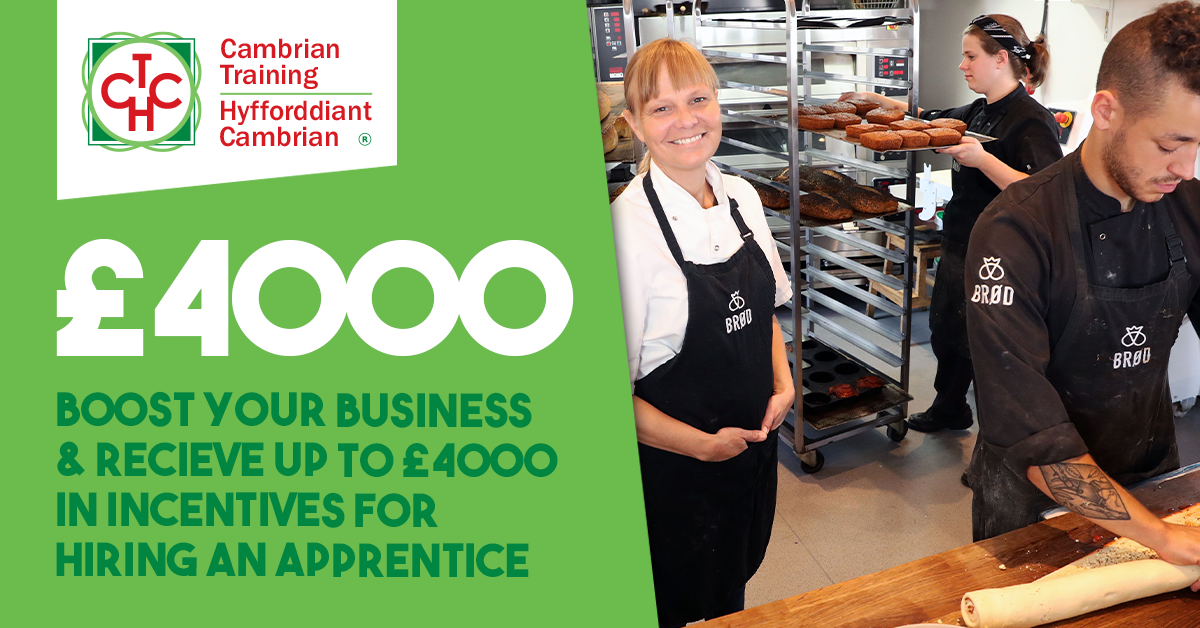 Welsh companies that want to boost their business through hiring new apprentices may be eligible for up to £4000, it has been announced. A further £18.7 million will be invested to extend the successful Employer Incentive Scheme to support businesses to recruit apprentices in Wales.
The Employer Incentive Scheme, which has run since August 2020, will help companies of all sizes hire and boost business as the economy gradually opens up. Over 1300 apprentices have already been recruited, and now an extra £1000 may be available compared to the £3000 grant previously on offer.
Cambrian Training is encouraging employers of all sizes who are recruiting to use the funding to hire new apprentices to build the job specific skills needed to grow their business.
As the economy gradually begins to open, this new funding will give employers the additional support needed to take on apprentices of any age who will help increase productivity and innovate their approach. At Cambrian, we have a flexible and highly skilled team ready to help you respond quickly and deliver a wide variety of industry certified apprenticeship qualifications that reflect the skills your company needs right now.
As one of Wales' top training providers, we can now offer all employers across Wales the fantastic opportunity to advertise and promote their quality apprenticeship job opportunities online FREE of charge on the Apprenticeship Vacancy Service (AVS). We will also help spread your vacancy as widely as possible across the 1000s who follow us on social media.

With a Wales wide push to hire up to 6000 new apprentices in Wales, there's been no better time to get involved with Cambrian Training. We have worked with over 2700 employers across Wales in our 25 years in business.
If you want to take advantage of the scheme, get in touch to help grow your business. A member of our friendly team will guide you through the process if you get in touch with us via employerincentive@cambriantraining.com
* Different levels of funding apply depending on age, contracted hours of work and circumstances.
The extension of the scheme means businesses will be able to claim up to £4,000 for each new apprentice they hire under the age of 25 who works over 30 hours a week, and £2000 for less than 30 hours.
For workers aged 25 and over, businesses can access £2,000 for each new apprentice they hire on a 30 hour or more contract, and a £1,000 incentive for apprentices working less than 30 hours. Payments will be limited to 10 per business that are recruited before the current deadline 30th September 2021.
Dedicated funding is also available to recruit disabled people and for workers who lost a previous apprenticeship position because of COVID-19.