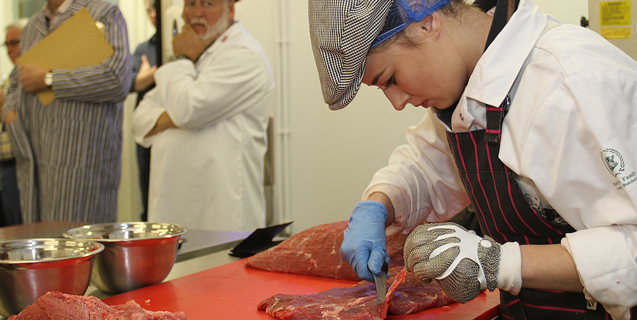 Sixteen-year-old Hannah Blakely from Leeds City College has been crowned the victor of the Welsh heat of the WorldSkills butchery competition.
Blakely beat off tough competition from 19-year-old Peter Rushforth from Swans Farm Shop in Mold, who finished in second position, and runners-up Liam Lewis, aged 28 from Hawarden Estate Farm Shop near Chester and 31-year-old Peter Smith from Morrisons Welshpool.
"I'm really happy, all the hard work has paid off," Blakely said. "They're all older than me and have done a bit more, so I didn't really know what to expect but I'm glad, I'm really glad. It's like a weight off my shoulders now."
In preparation for the event, Blakely said she had been practising every week at college, as well as making preparations at home.
The heat was separated into two challenges. The first saw the butchers tasked with seaming a full topside of beef in 45 minutes. "What we were looking for was the candidates' ability to separate that topside into several different muscles," said Roger Kelsey, national chairman of the National Federation of Meat and Food Traders (NFMFT) and one of the judges.
"The idea was that they separate the muscles, remove the gristle and remove the fat, so that when we had a look at the end-product there were nice and clearly defined muscles without any digs. We also looked for the trim of the gristle, we looked at the fat, and part of the criteria was that you look for good knife skills."
The second challenge saw the competitors produce a barbecue display out of one whole chicken, a 500g piece of topside beef, a 1.5kg shoulder of lamb and 500g of boneless loin of pork in an hour-and-a-half.
Kelsey explained that the innovation of products and the use of marinades and recipes were important areas of focus. "We were also looking for skills as far as cooking was concerned," he said. "It's all very well producing a product, but if you cannot cook it or if the person who's producing it cannot cook it, then you cannot advise the consumer, so it's about background knowledge as well."
Industry consultant Viv Harvey, who was also a judge, praised the contestants for their high level of ability. "It was a very good judging session today (Tuesday 24 May 2016)," he said. "They were very, very close. A good range of quality skills was demonstrated and, as far as the judges go, we had a challenge on our hands.
"Normally you will get a competition where you will get a weaker one who stands out right from the beginning, but this time it was very, very close and, at the end of the competition, it actually came down to weighing the product to see about uniformity and portion control."
Harvey added that the standard of competition gets better and better every year. "These are young folks coming into the industry and it shows that there is a lot of passion still there to be gained. At this age the youngsters are sponges and they're looking for as much information and training as they can get – and that's what the competition is all about."
The Northern Irish heat takes place on 21 June, followed by the English heat on 5 July.
The six highest-scoring competitors across the whole of the three heats will then go head to head in the final at the NEC in Birmingham from 17-19 November.
The WorldSkills butchery competition was organised by Cambrian Training Company, with sponsorship partners including NFMFT, the Institute of Meat, The Food & Drink Training and Education Council (ftc), Hybu Cig Cymru – Meat Promotion Wales, and Viv Harvey. Meat Trades Journal is the exclusive media partner.